When a company goes bankrupt, a certain kind of investor comes out of the woodwork trying to make a killing: if they buy assets at distressed prices, really cheap, they can often wait a few years and resell at a very big profit. They are called vulture investors.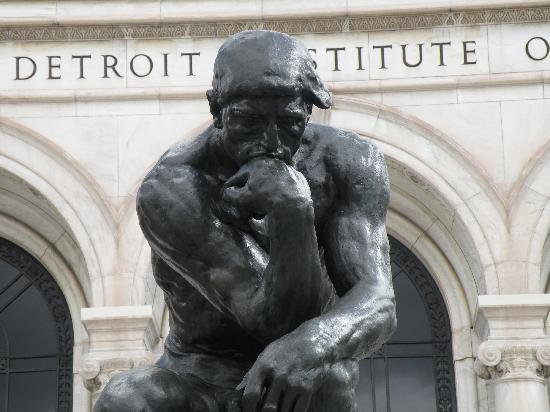 I've been thinking about the term ever since I read the article headlined Detroit's Creditors Eye Its Art Collection in the July 20 New York Times, which of course is about the people who would like to sell the art collection of the Detroit Institute of Arts so they can collect on money owed to them by the city. I've been thinking about it, not just because of Detroit's creditors, but rather because of Christie's, the auction house. The article had this passage:
About a month ago, the institute's officials were contacted by Christie's auction house, which asked for an inventory of works and asked if appraisers could visit to assess the collection. It is unclear whether such a visit took place and whether it was creditors or someone else who enlisted Christie's to begin an appraisal. (Mr. Nowling said that the emergency manager's office did not do so, and Christie's declined to comment.)
All I can think of is, shame on Christie's. Sure, business is business, but let's remember here that it is NOT the Detroit Institute of Arts that has mismanaged the city and led to the bankruptcy. As far as I can tell, the DIA has husbanded it resources very well and acted responsibly over the last several years.
Is Christie's so hard up that it will take any business, no matter how reprehensible? That's sad. Of course Christie's is positioning itself for the sale, should it be ordered. But if I were a collector wanting to sell, I would not patronize Christie's because of this. If wanting to buy, yes, I know collectors go with whoever has the "material."
BTW, I applaud the behavior of the Detroit Institute during this crisis. It just keeps going about its business, trying not to get distracted, and head down. Yesterday, I received this in a press release:
The Detroit Institute of Arts (DIA) will examine and digitally photograph 13 full-scale drawings, known as cartoons, created by Diego Rivera in his preparation for painting the DIA's internationally renowned Detroit Industry murals. The drawings have not been looked at in more than 30 years, and have never been digitally photographed. The project will take place from July 22 to Aug. 2 and is made possible by a grant from Bank of America's Art Conservation Project. The grant will also fund any necessary conservation work on the delicate drawings.
ETC. Some of us are "liking' the DIA on Facebook in a show of support. As of  now, it has 231,851 fans — versus 223,00 in mid-June.
BTW, tomorrow's New York Times has an article about the closing of the Fresno Metropolitan Museum, which over-expanded and had to close in 2010 — offering it as a template for, or lessons relevant to, the situation at the Detroit Institute of Arts. I don't think so. They are just not comparable.
Photo Credit: Courtesy of the DIA