What comes after crowdsourcing and crowdfunding? Crowd-deaccessioning, of course.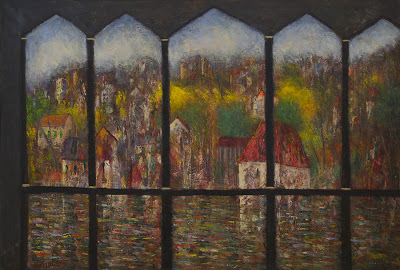 Yup, the Georgia Museum of Art (at the University of Georgia) has opened an exhibition of five paintings (one at right) from its collection by the French artist Bernard Smol (1897–1969). The museum wants to keep just one of them because of "limited storage space and evolving collecting philosophy." Four, then, will be deaccessioned. But instead of making that curatorial decision itself, the museum wants help. According to the exhibition description, "Visitors will be able to vote on which one they would like the museum to keep, and the curatorial staff will take those votes into consideration." It then says the the paintings are "of comparable dimensions, styles and significance," so it's too hard to decide what to sell "except for a difference in their exhibition histories and the ways in which they entered the collection."
Huh? In the press release, Lynn Boland,  the museum's Pierre Daura Curator of European Art, said:
Deaccessioning is never something to take lightly, and we strive to be as careful and transparent as possible. This exhibition gives us a chance to examine and explain the process while soliciting input from the public on the future of their collection.
She then cited a similar "deaccessioning" exhibition at DePaul University in Chicago, called The Good, the Bad, and the Ugly, in 2010.
Take a look, then, at the museum's blog, where Boland continues:
The paintings do not align with the collection goals as defined in the museum's mission statement and acquisition policy, the paintings have not generated any scholarly interest or interest from the public in more than 50 years, and they have not been exhibited during this time.
Images of all five paintings are posted on that site, and Boland proposes which one she wants to keep. Based on the pictures — which is probably not enough — I would agree with her.
But why ask? Isn't this just a gimmick? Suppose visitors pick the weakest painting — would Boland listen? Would the director and trustees? Would they really abdicate their curatorial judgment that way?
I hope not. Two is not a trend; let's not see a third of this exhibition genre.
Photo Credit: Courtesy of the GMOA