In August, when the Detroit Institute of Arts won support in its three surrounding counties for a tiny property tax — called a millage — to support its operations for 10 years, a lot of people hailed it as the start of a new funding model for the arts.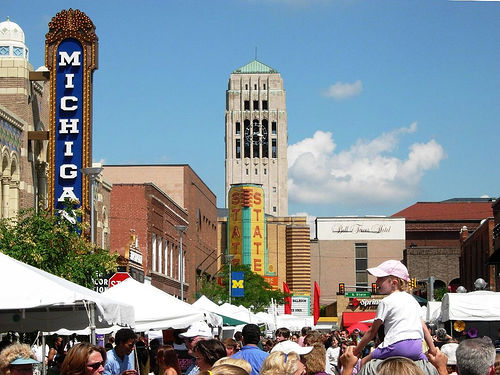 It wasn't and it won't be, imho. I thought then, and now, that the DIA/Detroit was a special case. Nearby in Ann Arbor, residents agreed with me on election day last week: they voted down a millage to fund a comprehensive public art program.
True, public art is not the same as any museum, let alone the glorious DIA. But I doubt many museums could duplicate the special circumstances the DIA found itself in — which was all part of the winning rationale among voters.
As the Michigan Daily reports with respect to Ann Arbor:
The millage was an alternative to the current public arts funding program Percent for Art, which has encountered difficulty in providing public arts projects under heavy restrictions that limit displays to permanent art installations on specified government properties….

The tax would have cost the average homeowner about $11 a month and was expected to bring in about $450,000 annually. The new model for funding included a mill tax model for funding public arts in Ann Arbor. Instead of the current system, which takes the funds from different departments in the city, the funding for projects would come directly from the residents.
In late August, the Ann Arbor City Council decided to put the millage on the November ballot, undoubtedly eyeing the success in Detroit. Ann Arbor residents had apparently complained about the percent-for-art model, enacted in 2007, which stipulates that any capital project for the city must set aside one percent of its funding for public art — much like other cities.
I can't say I'm happy about any of this — except that it reinstates a little reality in the discussions about arts funding. Personally, I don't think the public will support a direct tax for the arts in anything but unusual circumstances.