Kudos to the Boston Globe for an interesting Q and A it published on Oct. 20, anchored by Geoff Edgers. Edgers went to six new, or newish, museum directors in the Boston area and asked them all the same seven questions.
The crew, all guys but one, were John Smith, director of the museum at the Rhode Island School of Design; Chris Bedford, director of the Rose Art Museum at Brandeis; Paul Ha, director of the List Visual Arts Center at MIT; Jonathan Fairbanks, director of the Fuller Craft Museum; Matthias Waschek, director of the Worcester Art Museum; and Wyona Lynch-McWhite, director of the Fruitlands Museum at Harvard.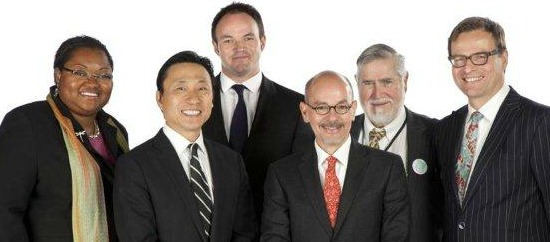 They ranged in age from 35 (Bedford) to 79 (Fairbanks), and the softest question was "What's your favorite museum in the Boston area (other that your own)?" Answers: Museum of Fine Arts (2 votes); Harvard; Isabella Stewart Gardner; De Cordova (1 vote each), and Ha declined to answer, saying "I would like to draw a Venn diagram because I think all of us do different things but cross over very little." (Chicken!)
Ha also evaded the question "Is there one thing you wish people could see at your institution?" saying, "I would say the show-off piece for MIT is our public art collection. It's all over campus. But it's an open campus, so anybody just walking around, they can experience it."
The others, in order, said: four Copley portraits, a terrific early David Smith, A cabinet that we bought at auction, Paul Gauguin's "The Brooding Woman;" and the Alcott farmhouse.
I liked the question "What is the biggest challenge you face?" for the two answers that weren't about outreach or profile. Rather, Waschek said:
We are an encyclopedic museum. We are covering all the centuries and all the cultures. How do you find a narrative that is interesting enough for people to come to us and see us a serious alternative to bigger museums with deeper collections like the MFA, which is just an hour from here?
And Bedford said:
One very interesting, compelling opportunity for us at the moment is a healthy untapped acquisitions fund. There was a period of time when obviously the museum was director-less. Those holding down the fort very generously and very sensitively decided to reserve the funds for the incoming director.
There's much more. I hope that link works; the Globe is behind a paywall for some things now.
Photo Credit: Courtesy of the Boston Globe