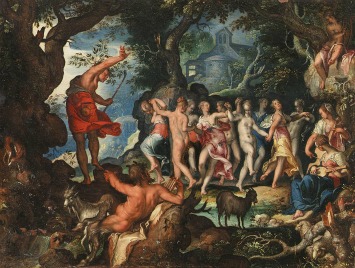 True collectors never stop buying and they go their own way, following what they love, not necessarily what's fashionable. Rose-Marie and Eijk van Otterloo, whose collection of Dutch Golden Age Old Master paintings was on tour during 2011-12, provide an example once again.
Last spring, they made news when they bought Rubens's Crucifixion at the TEFAF Maastricht art fair (see it here). At the time, Eijk told me that the painting was too dramatic for their home, and belonged in a museum.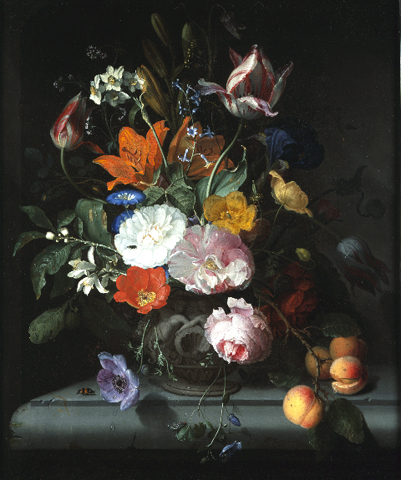 Though they mainly live in Massachusetts and Florida, he said they would probably lend it to the Currier Museum in Manchester, N.H. for tax reasons.
And that's what happened. The Currier confirmed shortly thereafter that the van Otterloos would lend The Crucifixion, as well as The Apulian Shepherd by Joachim Wtewael (1566–1638) and The Cardplayers by Jan Steen (c. 1625–1679) in connection with an exhibition opening Sept. 29 at the Currier titled Printmaking in the Age of Rembrandt (through January 6, 2013).
The other day, the Currier emailed me with news that five, not three, van Otterloo painting would be on loan. Two floral still-life paintings, one by Jacob van Walscapelle (about 1679) and the other by Jan van Huysum (about 1730), will also be there.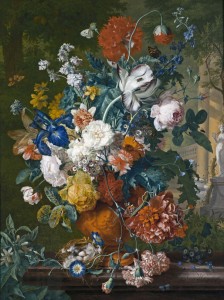 None of these works were on that international tour, and none has been exhibited previously in the U.S. 
This isn't a separate exhibition, either. The van Otterloos' works will hang alongside the Currier's Old Master paintings collection, which includes works by Jacob van Ruisdael, Jan Molenaer and Balthasar van der Ast.
I'm showing four of them here (The Crucifixion can be seen at the link above). From top to bottom, they are the paintings by Wtewael, van Walscapelle, van Huysum and Steen.
 While we're on the subject of collectors, I was talking the other day with a a major collector in a completely different field, a man whose name for the moment must remain undisclosed. He brought up the subject of what it takes to be a real collector, "not the so-called collectors. There are not many real collectors in the world."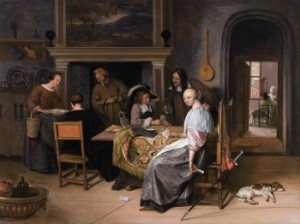 What does it take to be a real collector — not an investor or a speculator, not someone looking to build social capital?
The collector in question cited five necessary criteria. "To be a collector," he said, "you must collect, conserve, research, publish and exhibit" your treasures.
Photo Credits: Courtesy of the Currier Museum