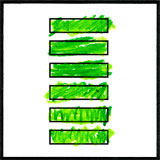 Get ready to laugh. As museums and parents try to figure out how to get kids interested in art, it's amusing to learn what they think when they first see it. Can you guess whose paintings in the Modern's collection these kids are talking about:
It's just a big red piece of paper with four lines on it. It's not very interesting. I'd rate it a one-star. I think it's stupid.
It's fun to look at because you see kind of like a target-shaped thing… There are little faces that could be like fake people peeking up and you could try and shoot them with a bow and arrow. They're real people.
Make-up Girl. It's too much eye shadow. I never saw a lady with pink skin. I think I saw a picture of her before but I'm not sure what her name is. I think she's in the fashion show. I saw a TV commercial that have those same exact colors.
Those are a few excerpts from a new feature on AudioTourHack called MoMA Unadulterated:
an unofficial audio tour created by kids. Each piece of art is analyzed by experts aged 3-10, as they share their unique, unfiltered perspective on such things as composition, the art's deeper meaning, and why some stuff's so weird looking. This is Modern Art without the pretentiousness, the pomposity, or any other big "p" words.
The kids comment on 30 works of art — those above are by Barnett Newman, Jasper Johns and Andy Warhol, respectively — and they are both touching and hilarious at times. They don't think some of these works should be in art museums. No one likes Jackson Pollock, and one of his critics believes he made No. 31 for the money.
But beyond the fun, AudioTourHack, whose previous effort "reimagined Chamberlain's sculptures [at the Guggenheim] as an exhibition about the Transformers…." has a serious mission: "to use creative story-telling to send people on fun, interactive journeys, redefining the way they perceive art and their surroundings."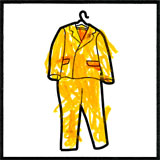 MoMA cooperated with the team making the tour, and the tour's website page includes a handy map of where to find these works of art in the collection.
The AudioHackTour people say on their website, "We sincerely hope it introduces a wider audience to the art and gallery and reinvigorates both adults' and children's love of art."  As funny as the podcasts are — and they are worth a listen no matter how you know about art — they may just serve their purpose well. There's a cute little trailer on the site, too.
Photo Credits: Courtesy of AudioTourHack.