The news was announced today: Louis Grachos, director of the Albright-Knox Art Gallery, has quit that job to become Executive Director of AMOA-Arthouse, a new organization formed by the merger of two long-standing arts organizations in Austin, Texas — the Austin Museum of Art and the Jones Center (Art House) — last November.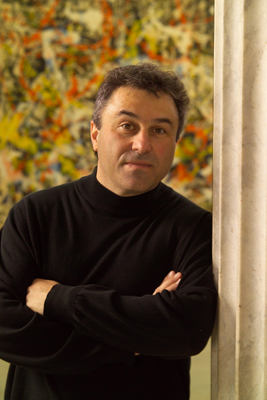 He leaves effective January 2013.
In some ways, his departure does come "at the right time," as Grachos told the Buffalo News. He took up the Albright-Knox post in 2002, and ten years is a goodly amount of time to make a difference. As the press release announcing his departure reported:
 During his tenure, he has implemented a strong, dynamic exhibitions program, which featured the landmark exhibition Extreme Abstraction in 2005, as well as theRemix and Artists in Depth series of exhibitions that mined and deeply explored the Gallery's Collection in new ways, frequently inviting leading local, national, and international artists to engage with the Gallery and become involved in selecting and installing exhibitions in the museum's spaces.  He also initiated a host of innovative and important projects, programs, and community collaborations, which include Art'scool, Gusto at the Gallery, and M&T FIRST FRIDAYS @ THE GALLERY.  Grachos …[added] many significant, key works to the Collection over the past ten years… The exhibition DECADE: Contemporary Collecting 2002–2012, which the Gallery will present this fall…will show, for the first time, many works that have entered the Collection during Grachos's tenure.
All true, and Grachos does deserve some credit for trying to restore the Albright-Knox to it glory days, when it was a leader in showing contemporary art. Its recent show, The Long Curve: 150 Years of Of Visionary Collecting at the Albright-Knox Gallery, attempted to do that (and was in demand to travel, though I am not sure what happened with that), and its current show, Wish You Were Here: The Buffalo Avant-garde in the 1970s, takes visitors back, too (apparently not quite so successfully, some critics have said. I haven't seen it).
But there is that unspeakable matter of deaccessioning antiquities from the permanent collection in 2007, despite the fact that the museum's own Collections Management Policy said "No sale of masterpieces; nor, in terms of its own collection, of very important works." Those non-masterpieces brought in $67 million. I am eager to see exactly what he's been buying that money in the coming exhibition.
Before moving to Buffalo, Grachos was the director of SITE Santa Fe, and I always felt he was leading the A-K's directors down a contemporary path they thought they wanted, but might not have thought through.
It's too late to go back, though. The die was cast in 2002. The release said the board was, of course, "forming a committee to initiate a national search for our next director."
Photo Credit: Courtesy of AMOA-Arthouse.