To my own regret, I did not see the recent film, "The Mill and The Cross," filmmaker Lech Majewski's 2011 restaging of Peter Bruegel's 1564 masterpiece, "The Way to Calvary." Adapted from the 2001 book by independent art critic Michael Francis Gibson (who also co-wrote the screenplay), it won raves.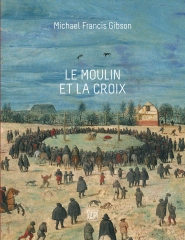 More happily, I am now in the possession of a new edition of the original book — and it's stunning. Published in English, French (at left) and German (University of Levana Press), the book contains a two-page spread of the whole painting, plus 130 details from every part of it. It also offers new material, "including stills from the film, photos of the shooting," and — better yet — "a number of as yet unpublished details hidden deep inside the painting – aspects of what might rightly be termed the invisible Bruegel." [their boldface, not mine] More about which in a minute.
First, I want to highlight what Gibson says at the start, that as a child he hated being told what to think of a painting before he'd seen it. He suggests: "Perhaps you shouldn't read this book just yet. Why not look at the pictures first. Get acquainted with them. Step into their world without preconception."
Brilliant — I so agree, always or almost always. Â With his book, I did just that — and the details are delicious. Separate paintings, all of them. The painting is, as Gibson says, "a gigantic miniature." My only complaint is that even with a two-page spread of the original, it's hard to pinpoint where the details are located on the picture. Readers could have used some sort of key, perhaps an overlay of the numbered detail outlines on a copy of the painting in the back.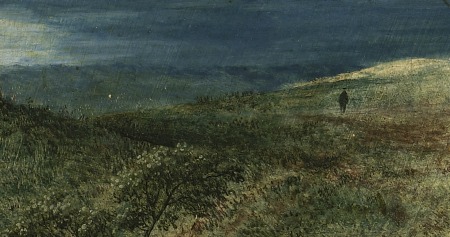 Now to the new details, which I cite even though I'm still looking at details, mostly, and haven't read the book, except to dip in here and there. In the publisher's billing, we hear:
As Gibson explained, he was looking at some close-up photos provided by the Kunsthistorishes Museum, when he was stunned to discover that a hundred or more original paintings lay concealed inside the larger one. One of these in particular impressed him.

"If you look to the right of the mill on its impropable rock," he says, "you will find a sunless moor and a little man leaning into the wind and trudging up the hill towards a splash of sunlight at the top. But what took my breath away was the realization that Bruegel had taken the pains to paint in a light rain falling aslant on the moor. At which point I thought to myself, 'that little rain has been falling up there for close to 450 years, but I may be the first to have seen it since Bruegel set down his brush.' (Publisher's comment; It turns out that the curators of Flemish paintings, who have ample opportunity to examine the painting at close quarters are indeed aware of the falling rain…)
You can see, sort of, what he's talking about above right.
None of us will ever get as close to the painting as Gibson did — which he writes was "perched on a stool with a magnifying glass in my hand and my nose five inches away from Bruegel's Way to Calvary." Our only alternative is to buy this book.
Photo Credits: Courtesy of University of Levana Press (bottom)