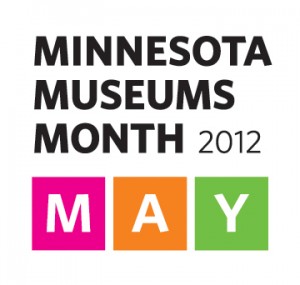 Today is the last day of "Museums Month" in Minnesota, and I wish I'd known about it before. It's another reason to wish that other states were as good about the arts as the North Star state. (To cite just one example, in 2008, residents voted to raise sales taxes by three-eights of one percent, or about $300 million a year, to protect the environment and cultural heritage.)
This was the maiden effort for Museums Month, but the organizers would like it to "become an annual festival of the many beloved museums and zoos located across the State of Minnesota." Among some of the noteworthy elements:
100 metro public libararies offered "Museum Adventure Passes" on a first-come, first-served basis: Holders could use their library card to "check out" two free admissions to eighteen cultural organizations in Minneapolis-St. Paul,  including the Minneapolis Institute of Arts and the Walker Arts Center. (Guidelines here.) The loan period for the pass was seven days.
The Metropolitan Library Service Agency every day during the month selected two members of the public, drawn randomly from those who registered online, for memberships to a selected group of museums.
Links on the Museums Month website spread the word about "museum stories," articles that covered various museums.
One of those links disclosed that the Star-Tribune had a contest for viewers of its museum travel guide — those who visited 5 of 15 museums participating were entered in a contest for "fantastic prizes."
 There's also a short statement, posted in a PDF online, about the economic impact of Minnesota's museums.
This was a collaborative effort by the museums themselves, with several partners, like libraries and public television. I salute them! Now, I'd like to see a report on the month — what it did, if anything, for attendance, membership, enlightenment and anything else they can imagine.
Meantime, this is a model other states could easily adopt.