This is Old Masters week in New York, and to mark it I have written a short article about an ivory, estimated by Sotheby's in January, 2010, at $120,000 to $150,000.It sold, after much bidding from the trade, for more than $1.2 million. Now, it's for sale at a New York gallery for $3.8 million.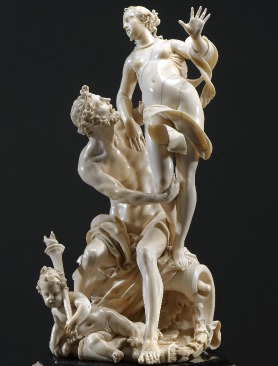 Much of the general public probably thinks that's a ripoff, which is one reason I wanted to write about this piece. I leave it you to decide if it's worth that high amount, but the story of how it gained value, going from a piece attributed to Matthias Steinl to one definitely by him, is a good tale.
As I recount in the Wall Street Journal, on the Saturday Icons page, Anthony Blumka of New York and Florian Eitle-Böhler of Munich bought the piece, had it cleaned, restored it to its original state, complete with pieces that had been missing, and took it to a symposium on the baroque in Munich for study by scholars. They agreed it was by Steinl.
With its newly confirmed authorship, the sculpture, whose photographs are pretty impressive, was displayed last year at the Liebieghaus Sculpture Collection in Frankfurt in an exhibition called "Ivory: Baroque Splendor at the Court of Vienna." I plan to see the piece at Blumka, where it will be on view from Thursday until Feb. 10.
Last, I can only quote Eike S. Schmidt, the curator of decorative arts and sculpture at the Minneapolis Institute of Arts and the author of several books on ivory sculpture:
It is quite a sensation that this masterpiece, which was known to scholars only through an old photograph, taken when it was in the Rothschild collection, has re-emerged. It is certainly one of the most outstanding ivory sculptures that were made in Austria in the Baroque age.
Photo Credit: Courtesy of Blumka Gallery