Out of the Shadows, a film by Kevin Sullivan about the use of advanced technology to discover the way artists work, made its debut in New York yesterday — a showing at the Winter Antiques Show at the Park Avenue Armory. I went to look, and concluded that it's a good film for museums to screen — and build a program around.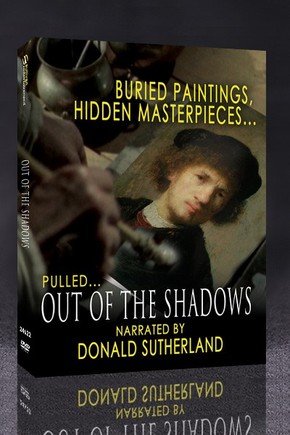 Many museums have discovered that people like to see what art conservation is all about, and this film takes that interest and runs with it.
Narrated by Donald Sutherland, the documentary — don't Google it, use the link above, because you will otherwise get a movie about depression — closely follows the stories of two paintings, Rembrandt's Bearded Old Man and van Gogh's The Patch of Grass. It shows how technology like x-ray fluorescence and 3D imaging and expertise — from scientists in Europe as well as at Cornell and Brookhaven National Laboratory — discovered paintings behind the surface of what we can all see and, in the Rembrandt's case, led scholars to authenticate the picture as by him because of what's underneath.
The hero is Joris Dik of the Delft University of Technology in the Netherlands, who has credentials in both art and science. He helped discover a Goya last year.
The film isn't perfect, imho. It uses actors to play the parts of Rembrandt and his followers, for example, which is a little hokey. But they don't speak, and their moments on screen are short. In a couple of places, it overdramatizes — but not too badly.
What it set out to do — show science in art — it does pretty well. Nicely, the film's website provides not just the trailer, but also other video snippets that take you behind the scenes at the Rijksmuseum, the Kroller-Muller Museum, the Rotterdam museum, and other places prominent in the film, telling their stories. It explains a bit of the science, too.
I'd like to see the film get theatrical distribution, but it's already available on DVD (above). That shouldn't hold museums back, though. Visitors will pay (modestly) to see this and discuss it.