The Clyfford Still Museum opens officially on Friday at 10 a.m., although the grand opening party takes places Wednesday night — and it's sold out.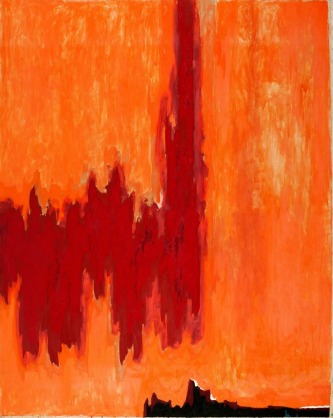 I'm sure many people will visit at first. But it's an open question whether Still's art has the staying power, whether there's enough interest in his works, enough variety in his works, to keep people coming. Last week's auction, with four paintings selling for $114.1 million, brought much wanted attention, raising his public presence, but people will soon forget those prices. 
Yet Still may surprise people. Last spring, months before I wrote a Cultural Conversation with the museum's director, Dean Sobel, for the Wall Street Journal (published last month), I visited the suburban Washington storehouse where Clyfford Still's paintings had been stored.
Paintings were everywhere – rolled up on shelves; hanging loose, unframed; stretched an lined up against walls; on the floor; in stacks on racks; and so on. And there's more variety than I'd expected, based on what I had seen before. Here are two that I particularly liked.
Above is PH-4, from 1952. It has never been shown. It's luminous.
Sobel also told me how he and adjunct curator David Anfam, kept thinking, as they went through all of Still's paintings — some 825 of them — that there had to be a big blue painting. The Hirshhorn Museum owns one, but after going through all the slides of art they;d been given, they were asking "where's his great blue painting?"
When Sobel called Still's daughters, he learned that there had been about 10 paintings that had been too big to photograph — among them was a great blue one, labeled 1951 B, and it's more than 14 feet wide. It was one of the first paintings he made in New York City, and it was shown only once, at the inaugural exhibition of the Institute of Contemporary Art in Philadelphia, in 1963. I watched the art handlers unroll it for me to see when I was at the warehouse, and I will be eager to see it stretched and in person. This isn't the best photo of it, but here's a sneak preview: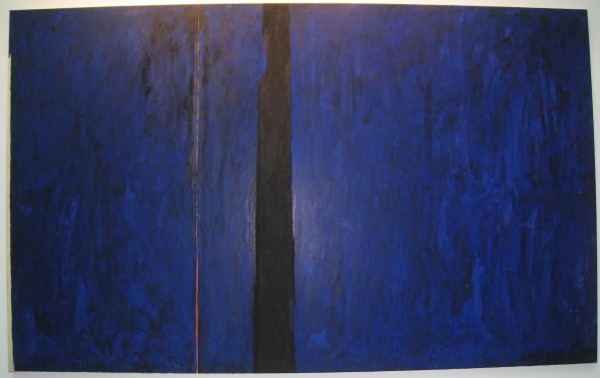 Photo Credits: (C) Courtesy of the Clyfford Still Museum