Wood, as an art medium, seems to have an identity problem — though I'm not sure why. Think back to Renaissance and Gothic periods, and plenty of superb sculptures were made of wood. Among the best artists, one of my favorites, is Tilman Riemenschneider.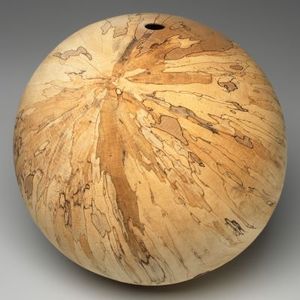 But, later this week, on Nov. 11, what was once known as the Wood Turning Center in Philadelphia — surely a name that relegated the output of artists there to craft, not art — becomes the Center for Art in Wood. "Ducks Unlimited" — by which I mean a great, short, symbolic name — it is not.
Well, it is earnest. And the center — which is also moving to a new location, at 141 N. 3rd Street in Philadelphia — has a worthy mission, namely "leading the growth, awareness, appreciation and promotion of artists and their creation and design of art in wood and wood in combination with other materials." When we hear "wood" we shouldn't just think of bowls and chairs.
The center begins its new life with a 25th anniversary exhibition of objects selected from its collection of more than 1,000 art works, dating from the 1970's to today. All have been acquired or are promised gifts. Exhibition curator Gerard Brown, a faculty member at Temple University's Tyler School of Art, arranged the pieces in chapters: Conversations, What is it? (e.g.,What is a bowl?), Materiality, Color and Function, Tool Time, and Sculpture. Among the "star" artists whose work is on view are David Ellsworth (his Lunar Sphere, from the collection of the Minneapolis Institute of Arts, above), Mark Lindquist, Jack Larimore, Michelle Holzapfel, Garry Knox Bennett and Wendy Murayama.
All that is according to the press release, not on line. (Memo to the center's powers that be: please include press releases and press contacts on your website. UPDATE: Now some press releases are posted.)
This little history, from the release, also strikes me as condescending toward wood, in general:
While woodturning on lathes was popular and important in industry, school "shop" classes and home workshops for generations, the idea of using the simple lathe as an artist's tool is relatively recent. What could it possibly make? The well-known artist David Ellsworth notes that, unlike other fields – such as ceramics, fiber, glass and metal – woodturning did not have an academic or art(ful) base.

It is often said that the foundations for the Center and the idea of seeing turned wood as
a serious art form began with a series of symposia organized by Albert LeCoff, his twin
brother Alan LeCoff, and Palmer Sharpless from 1976 to 1980 at the George School in Newtown, PA….
There's no need for such inferiority. This summer, to cite just one example, the MIA displayed Conversations in With Wood: Selections from the Waterbury Collection, and MIA, among other museums, is collecting in this area. (See several lovely examples at that link.)
So welcome to the art world, Center for Art in Wood. Just take the high road, and people will follow.
Photo Credit: Courtesy of the Minneapolis Institute of Arts