There's an art historical story to the Frans Hals painting just acquired by the Toledo Museum of Art, too.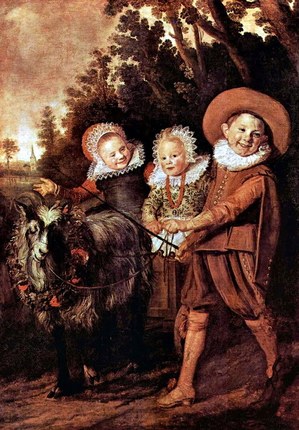 Hals actually painted a bigger work — this is only half of it. Originally, he depicted nine of the couple's ten children, but at some unknown time, the canvas was cut — three children on the right were separated from the family, and turned into a different work. Called Three Children and a Goat Cart, it is now in the collection of the Musées royaux des Beaux-Arts de Belgique in Brussels, donated in 1928. It's shown here at right.
No one knows why the painting was split, but it wouldn't have been a surprise if it was a matter of too small walls. No one knows who did the deed, either — but one can guess that it was not the original owner.
Brian Kennedy, the Toledo Museum's director, and Larry Nichols, the curator on this, are hoping that "the two canvases can be reunited for a focus exhibition traveling to both venues, something that has not happened for more than 20 years."
I've pasted the whole work here: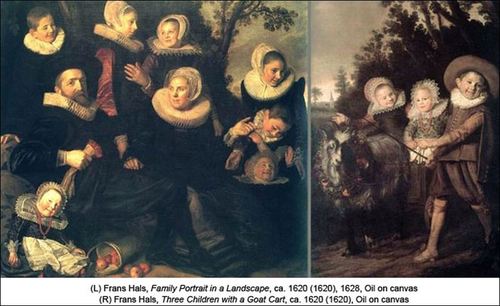 Here's another part of the story: How did the painting get the 10th child? Artist Salomon de Bray added her in 1628, "as noted by his signature on the infant daughter's left shoe." She was born after Hals had finished his work, but why he didn't add her is unknown. But the Toledo museum says that "the practice of modifying family portraits was relatively commonplace in the 17th century."
Scholar Pieter Biesboer, emeritus curator of Old Master paintings at the Frans Hals Museum, who will talk at the painting's unveiling on Oct. 13, discovered the identity of the family: they are Gijsbert Claesz.van Campen, his wife and their 10 children, seven daughters and three sons. The couple, according to the press release, "had married in 1604, and the possibility exists that they had commissioned Hals in 1624 to represent them on the occasion of their 20th wedding anniversary."
You can read the whole story here, with more about Hals here, and here.
Did I forget to say that the painting was purchased with funds from the museum's acquisitions endowments and bequests? It was. No one is saying how much, naturally, but the museum did tell the Toledo Blade that it was not near the record auction price for a Hals, which is about $14 million.