I don't usually root for bad reviews of art exhibitions — I can't think of an example when I did, in fact — but I am now.
Tomorrow, the Plains Art Museum in Fargo (which I have noted here with pleasure) opens something called You Like This: A Democratic Approach to the Museum Collection.

It's crowdsourcing, of course. I don't oppose crowd-sourcing, but I think there's a limit to it, and that it must be done with — at museums — real curatorial involvement. At the Walker Art Center's experiment, 50/50: Audience and Experts Curate the Collection, the public voted on just half of the exhibit. Curators chose the other side. There was value in comparing the two.
At the Plains, the selection began and ended with the public. Here's how the process was outlined in an article in In-Forum:
The show opens Thursday. But the idea came much earlierafter Mark Ryan, the Plains' director of collections and operations, started with a loose survey to see what kind of art people liked: abstract, representational, landscapes, figure studies, paintings, photographs or sculptures. By running those results through a database, the 3,800 pieces in the collection were eventually winnowed down to 100 suggested works. A group of community curators pared the number down to 75, which were then posted online by the museum, asking folks to vote on each piece and leave comments. The 50 pieces that received the most votes are in the show, arranged, roughly, in order from most to least liked.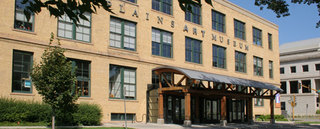 So where were the museum's curators in all this? Nowhere? Not in selection or exhibition?
There's more:
The Plains' curator, Megan Johnston says the final selections, which range from an antique chair and Native American moccasins to Catherine Mulligan's colorful resin cast tubes, show that patrons' tastes are "eclectic," though she points out that the top six (and nine of the top 10) vote-getters were for landscapes. And …the judging isn't over. Guests to the show will be given ballots to vote for their favorites through Jan. 15. Visitors are also encouraged to leave Post-it note comments on the east wall of the gallery. Community curators also had a say in the show's design, suggesting works be displayed in nontraditional ways, on the ceiling and at angles or on the floors. Some ideas, like bringing in a recliner, are easier to pull off. Plains staffers took the suggestions to heart and are thinking of different ways to display and view works. "They didn't want to come in and see white walls with art hung. They wanted to see something different," Johnson says, adding that one curator told her, "We don't want it to look like a Plains Art exhibition."
I understand the desire to involve people in art. But I don't understand why museum directors want to so devalue the curatorial profession. For their part, curators are probably loath to say anything lest they be deemed uncooperative, backward-thinking, and unpromotable.
But consider some analogies: should we all vote on what is taught in primary school classrooms? Should people vote on the medical treatment of an ailing loved one? Do chefs let their clients vote each morning on what they should prepare?
It really is time for the Association of Art Museum Curators to speak up.