Another museum is starting an intiative to mount single-picture museum exhibitions: The Speed Art Museum in Louisville has arranged to bring one of Caravaggio's early masterpieces, The Fortune Teller, into its galleries later this month, borrowed from the Capitoline Museums in Rome.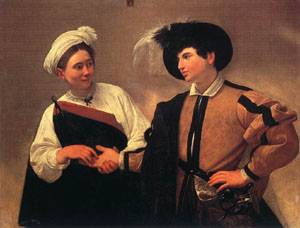 This is only the second time the painting has been shown in the U.S., the Speed says.
Also tucked into the press release sent to me was this statement from Charles Venable, the Speed's director: "The presentation of The Fortune Teller is part of our new Masterpiece Series and an outgrowth of our commitment to enhancing the art experiences we bring the public…"
I've been advocating these show for a while (see here, here and here, for examples at the Prado, the Dulwich Picture Gallery and the Portland Art Museum, for instance). I realize that they are not "new" — and that there are other examples, but the Speed Museum hadn't announced a Masterpiece Series, so I asked about it. Here's what Venable wrote back:
Officially our upcoming Caravaggio project is the first in the Series. However, the idea has been bouncing around in my head for a while. As it is increasingly difficult to afford huge loan shows, I have been thinking that we need to begin "retraining" our audience to appreciate the permanent collection more and small-scale exhibition projects. Given that we museums trained visitors in the 1970s and '80s to expect bigger and bigger projects with huge budgets and catalogues, it seems to me we might be able to get the public to appreciate more focused projects as well.

With that in mind I pulled [Leonardo's] Forster Codex out of the show Medieval and Renaissance Treasures from the Victoria & Albert Museum that we did in 2008, and presented it alone in our Renaissance period room with separate signage and a computer interactive that let one page though the book and translate the text.

Then in 2009 we borrowed from the St. Louis Art Museum a spectacular, early painting by Max Beckmann. The Speed does not own a major German Expressionist oil painting, so my philosophy is simply to try to borrow things we do not or cannot own. Beckmann's Titanic from 1912 proved a great hit when hung on axis in the permanent collection galleries.

With these two successes behind us, I decided to formally start the new "Masterpiece Series" with Caravaggio's The Fortune Teller …
That line about "retraining" just about sums up what I think museums will be doing; another way to say it is "changing their expectations," or giving them new reasons to come for a visit.
Venable says they he, and I know that he is not alone in this — is in negotiations to borrow other great works that can hold their own as a single-painting show, or are shown with a few other ancillary pictures. Stayed tuned for more.
The Caravaggio will be on view at the Speed from May 18 – June 5, 2011, but before it opens there, the painting (dated 1594), which portrays a Gypsy girl stealthily stealing a gold ring from the finger of the young man whose palm she is reading, will spend a few days in New York, at the Italian Cultural Institute from May 11 through May 15. A symposium on the painting will take place on May 13 at Hunter College.
Venable also mentioned another initiative, an interactive the Speed recently created on its website for a French Book of Hours. "That will give you an idea of how I hope to entice the public to interact with singular works of art in the galleries," he said.
Well, I've only explored a small part of it, but it looks good. If you have time, explore it.