The amount of time museum-goers spend looking at each art work is a subject of some study and much conjecture. Many years ago, a museum director told met that the average visitor spent 7 seconds looking at an art work in a museum. A few years ago, I heard that the number had dropped to 2 or 3 seconds. How these statistics were derived, I never learned (despite asking). I didn't give them too much credence, except to note that experts thought the time we all were willing to spend looking, really looking, at art had dropped.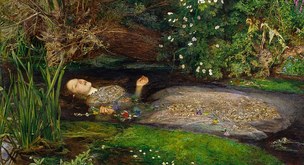 Leave it to London's scrappy Daily Mail to experiment with the subject, with a twist. The Mail set out to determine what kind of art people wanted to look at — classical or contemporary. It sent observers to the Tate Britain; they spent a day sitting in front of four 18th and 19th century paintings and four works by young British artists. Actually, two days — a Monday and a Wednesday, on the theory that those days attracted more true art-lovers and included students.
As art critic Philip Hensher wrote in an article published Sunday:
The explosion of interest in art in recent years has focused on fashionable young artists, doing outrageous things – exhibiting their unmade bed or a dead shark, or persuading people to sprint from one end of the Tate to the other at two-minute intervals.

These things easily get into the newspapers, and are famous among people who aren't even interested in art. These days, Turner and Constable seem less exciting than these celebrity artists. Could the classics stand up in a simple test of people's interest.

…We counted how many visitors stopped at each; for how long, on average, they spent looking at each work; what the longest examination was; and what sort of gallery visitor each work seemed to attract.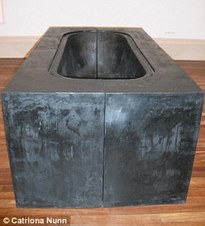 Surprise! The classics won, hands down. At Tracey Emin's Monument Valley (Grand Scale), most people didn't stop and those who did averaged 5 seconds before it. The longest time spent was two minutes. Rachel Whiteread fared little better, though "one fan…spent nearly five minutes in front of" her Black Bath (right). The Mail said Damien Hirst's animal sculptures did seem to appeal to views, but not his spot paintings.
On the other hand, visitors spent on average two minutes, 15 seconds looking at William Hogarth's The Roast Beef of Old England; 59 seconds looking at John Singer Sargent's Carnation, Lily, Lily, Rose; 1 minute, 57 seconds viewing Sir John Millais's Ophelia (above), and 2 minutes, 5 seconds looking at Whistler's Nocturne: Blue and Silver – Cremorne Lights.
Ophelia attracted the most ardent fan: someone spent a half hour studying it.
Here's a link to the Daily Mail article, which includes artwork-by-artwork statistics and illustrations.
What this all means is open to conjecture. To me it says something about aesthetics and narrative. People are more engaged when they see something that is "beautiful" and something that contains a discernable story. If an art work has both, all the better.
Photo Credits: Courtesy of the Daily Mail