Attention Video Artists: YouTube and the Guggenheim Museum Want You.

They want you to make a creative video, and upload in into their contest, called "YouTube Play, a Biennial of Creative Video" A jury will choose the 20 best ones, and next fall they'll be displayed at the various Guggenheims. Submissions are due by July 31.
High-profile art contests are all the rage these days, and with museums everywhere trying to figure out how to use the web to engage worldwide audiences, this one seems noteworthy, for several reasons.
For example, when I last checked the website tonight, it had more than 14,000 subscribers and more than 2.6 million "channel views."
Here's the program's description from that site:
YouTube Play is a collaboration between YouTube and the Guggenheim Museum, presented by HP and Intel, to unearth and showcase the very best creative video from around the world. To have your work considered, simply post it on YouTube, and then submit it at youtube.com/play. A jury of experts will decide which works presented at the Solomon R. Guggenheim Museum in New York on October 21, 2010 with simultaneous presentations at the Guggenheim museums in Berlin, Bilbao, and Venice. The videos will be on view to the public from October 22 through 24 in New York and on the YouTube Play channel.
More details are here.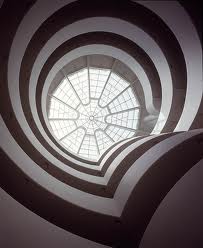 The devil is in the details, though — and a few of them are troubling. Corporations play a big role in this contest, starting with YouTube, which is owned by Google. To name the actual contest for a company is over-the-top, isn't it?
Just as suspect is the way the contest is promoted on the Guggenheim website, where it says "YouTube Play…Presented by HP and Intel." The press release calls it a collaboration with HP. Intel seems to have joined later, as it's not mentioned.
Equally troubling, the press release includes quotes from marketing executives at both YouTube and HP. That's the first time I recall something like that. Press packets do recognize sponsors and some include sponsor statements. But they are usually a separate document; no quotes from them are embedded in the museum's announcement.
I also wanted to know who'll be on the jury. Nancy Spector, the Guggenheim's chief curator, and a team of other curators, will narrow the submissions to the top 200. Then, a panel of "artists and celebrity art judges" will choose the top 20, according to a publicist. The Guggenheim site categorizes them as "artists, filmmakers, graphic designers, and musicians."
The names were supposed to have been announced by now, according to what the publicist said when she first contacted me. It hasn't happened.
I decided to post this because if I wait for names, many artists who want to compete will have much less time to dream up and deliver an entry.
UPDATE, 7/23: A press release arrived at 5:02 this morning announcing the judges, impressively as: Laurie Anderson; musical group Animal Collective; visual artists Douglas Gordon, Ryan McGinley, Marilyn Minter and Takashi Murakami; artists and filmmakers
Shirin Neshat Apichatpong Weerasethakul and Darren Aronofsky; and graphic designer Stefan Sagmeister.
It also said that more than 6,600 entries had been received from 69 countries.
—
But the whole thing seems a little off-key, which is about the same conclusion I reached last fall, when the Guggenheim present the "First Annual Art Awards" in what seemed designed to increase the Guggenheim's celebrity quotient, not art-world credibility.
This is a missed opportunity: Instead of leading in this area, free and clean, the Guggenheim — already known for its tendency to play fast and loose with museum customs — has muddied its reputation again.
Too bad for the top 20 winning artists, whose work will go on view on Fifth Ave., in the Tower Gallery 2, also known as the Annex Gallery, as well as in the other museum branches and online.