As I mentioned the other day, last Wednesday I attended a reception at the Museum of Modern Art* for Modern Women: Women Artists at The Museum of Modern Art. The event was heartening — many women in the art/museum world, and plenty of men, too, showed up to celebrate.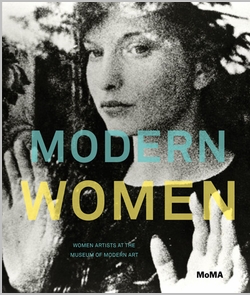 Still, I can't help but think this is "too little, too late." I wrote an article about the effort for the June issue of The Art Newspaper, which is out now. The story is not online — you have to go buy the paper, which is a fat 120 pages. It's got to have something for everyone.
But here I'll share a few things about Modern Women, some in the story and some in the outtakes.
The effort began in 2005, not from within MoMA, but when a donor-artist named Sarah Peters approached the museum with a desire to do "something" for the women of MoMA. Her offer provoked internal discussions, with the end being that curators could research deeply the women artists in the museum's collection.
The book program, led first by Deborah Wye and most recently by Cornelia Butler, did not take the coffee-table approach, illustrating the "canonical" artists at MoMA. Instead, it focuses on "lesser-known" artists, too, Butler says.
Butler promises some "discoveries" among the artists who made the cut. "Even on the timeline, there will be names and careers that some light is shed up," she said.
The book doesn't apply the "gender lens" throughout, but rather the editors allowed each author to decide her own approach — "her" is deliberate. The vast majority of the 50 authors is female, an acknowledged problem.
The ratio of male-to-female artists at MoMA is about 4.5 to 1, with a few caveats as outlined in The Art Newspaper.
Along with the book, MoMA is showing many women in the months ahead, including a solo exhibit of Lee Bontecou. And I have to say that Helen Frankenthaler's Chairman of the Board looked pretty spectacular in the lobby the other night. The image below — too small and not deep enough in color — doesn't do it justice.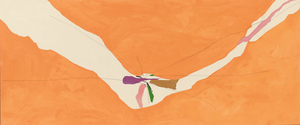 The best news is that Butler says the efforts to raise the profile of women artists, which we've discussed here before, will continue at MoMA, after the current run of exhibitions ends next year.
Back to my "too little" complaint: I didn't find too many others who agreed; most of the women I spoke with are happy for any moves in this direction.
This subject is far from new, of course, even for me on this 15-month-old blog: Here are links to my previous posts on it (here, here, here, and here).
Photo Credits: Courtesy Museum of Modern Art
*A consulting client of mine supports MoMA.