If you've been sitting in the atrium of the Museum of Modern Art* six days a week, for seven or more hours a day, from Mar. 14 through May 31, what do you do when it's all over?
I'm not sure what Marina Abramovic did on Monday night — probably collapsed — but last night, she went out to dinner. The "closing celebration" of The Artist Is Present was, seems to me, an unlikely event: It matched Marina with three luxury names: LVMH, Givenchy, and Sant Ambroeus, the upper East Side restaurant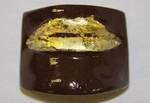 that has for years appealed to the art crowd.
LVMH and Givenchy sponsored the dinner at MoMA, and Sant Ambroeus — along with a dessert-maker called Kreemart — worked with Abramovic to create a special sweet: "the Gold Ball." There was also another sweet treat, this one made by the Sant Ambroeus pastry chef — "a chocolate mold of Abramovic's lips that were made from a cast of the artist's face during a recent silent performance."
I kid you not. These pictures are here as evidence.
Actually there's a rationale, per the press representatives of Sant Ambroeus:
The Gold Ball recipe was given to Ms. Abramović by a Tibetan monastery. The practice of consuming a Gold Ball usually follows a long period of fasting and seclusion. In keeping with this tradition, the artist has planned a performance dessert piece in which the guests will apply a 24K golden leaf to their mouths before tasting the Gold Ball. By consuming the Gold Ball together with her guests, Marina Abramović marks the end of her longest performance ever.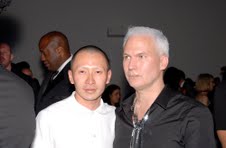 Aside from Abramovic, among those in attendance were Klaus Biesenbach, Director of MoMA's P.S.1 Contemporary Art branch*, and Canadian artist Terence Koh — both pictured at left. Art advisor and Kreemart founder Raphael Castoriano; actor Christina Ricci, chef Daniel Boulod and socialite Fabiola Beracasa.
Word is that all — or most? — "covered their lips" with the chocolate creations "in homage" to Abramovic.
Here's my previous take on Abramovic.
Photo Credit: By Vera Miljkovic (bottom)
*A consulting client supports these organizations.