If a painting, drawing or sculpture sold at auction for more than seven times its high estimate, you'd read about it, want to see it and want to know what accounted for the gap. But there's nothing in the newspapers I've seen this morning about the silver punch bowl that fetched a record-smashing $5.9 million at Sotheby's yesterday. The previous record for American silver was $775,750, set twice, once in 2001 and once in 2002. This is the second highest price ever paid for any piece of silver at auction, Sotheby's said.
Yesterday's lot was Punch Bowl by Cornelius Kierstede, made in New York between 1700 and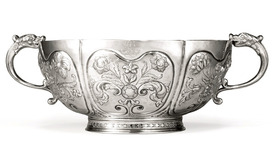 1710, estimated to sell at $400,000 to $800,000.
So what happened? What did the buyers — two at the end, but six at the beginning — know, or believe, that Sotheby's experts didn't? Anyone know?
Here's a picture of the bowl and here's Sotheby's description:
The bowl has descended in the family of Commodore Joshua Loring, whose stately home in Jamaica Plain, Massachusetts, the Loring-Greenough House, has been preserved as an historic site. A Royalist, Loring abandoned his residence in August 1774 to take refuge in Boston, and the family emigrated to London in 1776. According to tradition, the bowl was hidden in a well on the property during the Revolution. Retrieved by the family, it descended quietly with them in England, completely unknown, until the owners sent a grainy photograph to Sotheby's London silver department in March of 2009.
It weighs about four pounds and it in "amazing condition," having never (or rarely) been used, according to a short item in The New York Times's antiques column last week. A blog called Boston 1775 has more on the bowl (here), but the gap between estimate and price paid suggests there still more we don't know.
Photo: Courtesy Sotheby's