One of summer's pleasures is traveling up to Williamstown, Mass., to see what the Sterling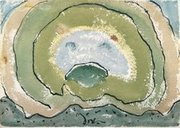 and Francine Clark Art Institute has on view. Usually, the summer exhibition is terrific — and this year is no exception. Early in June, I spent time at Dove/O'Keeffe: Circles of Influence, a look at the "symmetry of influence" between Arthur Dove and Georgia O'Keeffe. Curated by Debra Bricker Balken, it's a beauty; my take on the show is published in The Wall Street Journal today. The bottom line is this:
"Dove/O'Keeffe: Circles of Influence"…is the first
exhibition to explore their relationship. But what's important is not that visitors learn art history. It's that they see for themselves the way these two artists inspired each other over more than three decades and, more important, that they discover, or rediscover, the extraordinary, underappreciated Dove….

Dove emerges as the far more daring, more imaginative artist of the two. He, not she, tries collage, putting blue chiffon over metal with sand to make a serene "Sea II" that exceeds her wildly abstract "From the Lake No. 1." He, not she, creates works such as "Fog Horns" that evoke sound. And he, not she, never looks back at figuration, but turns out works that are increasingly spare, abstract and yet incredibly lyrical. His works are both more
layered, literally and figuratively, and more nuanced.
Along with my review, The Wall Street Journal has also created a slide show of eight works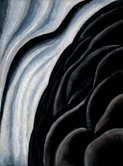 from the exhibition on line, so don't miss that. But I'm posting a few more here. From the top: Dove's Happy Clam Shell, 1938; O'Keeffe's Slightly Open Clam Shell, 1926; Dove's Sea Gull Motive (Sea Thunder or The Wave), 1928; O'Keeffe's Dark Iris, No. 2, 1927.
The show is a bit of a departure for the Clark: With about 60 works created between 1910 and the early 1940s, it's the first all-20th Century show, I believe.
But with its new Tadeo Ando-designed Stone Hill Center, opened a year ago, there'll be more.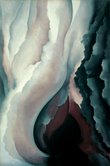 The current show at Stone Hill is called Through the Seasons: Japanese Art in Nature. It mixes screens as old as the 17th Century with contemporary ceramics. Another attraction there is the conservation labs, which are viewable through floor-to-ceiling windows — creating an interesting tableau of people on the outside peering in.
Dove/O'Keeffe is on view through Sept. 7; Through the Seasons is on view until Oct. 18.
Photo Credits: Works by O'Keeffe, © 2009 Georgia O'Keeffe Museum / Artists Rights Society (ARS), New York; Works by Dove, Courtesy of and copyright The Estate of Arthur Dove / Courtesy Terry Dintenfass, Inc.