Well, here's an interesting push-pull reaction.
I often write about philanthropy, and a few weeks ago, I almost wrote a piece about a $50 million gift to Yale University to create a global affairs institute. As if we need another one, I thought. What a waste.
Then on Wednesday I was reading an entry on Stanley Katz's blog (he is the director of the Center
for Arts and Cultural Policy Studies at Princeton). It talked about his recent trip to Miami University,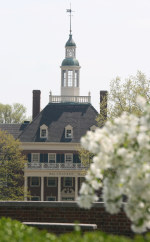 Ohio, where he gave the keynote speech at the opening of a new Humanities Center. Hurrah, I thought. (That's part of the Miami U campus at right).
On second thought, however, I wondered why I reacted so differently to the two developments. Surely, nowadays, global affairs are on everyone's mind. The humanities are decidedly not. With the possible exception of regular readers of this website, I wonder how many Americans would agree with me vs. the donors to Yale.
As Katz wrote on his blog a few weeks ago, in response to a New York Times article that outlined the troubles faced by humanities scholars in this recession:
The problem for humanities faculty is much older and much more serious — it is that as universities have increasingly overvalued what they take to be useful knowledge over what they believe to be useless knowledge (the humanities being the poster child), the humanities have taken a series of hits….it will continue to be the case until our community develops a more convincing case for the crucial role we play in education — and society.
The same is true for the arts.
Katz makes his case for the importance of humanities in his Miami U speech — citing five reasons (including some articulated by others). Among them are the part that knowledge of the humanities plays in giving us a better understanding of the world and in giving us the ability to interpret what was intended by grammar used in, say, the constitution/Bill of Rights.
(The Miami U Humanities Center, btw, was initially funded by a $250,000 Academic Enrichment Award from the university president's fund; an alum named John W. Altman is financing fellowship and other community program.)
The NEH has taken up the subject in its new issue of Humanities. There, R. Howard Bloch, chairman of the Humanities Program at Yale (!), writes in defense of the humanities here.
At the bottom of Bloch's article, there's a little squib about the NEH's new "Enduring Questions" grants…about which more later.
Photo: Courtesy of Miami University, Ohio