A correspondent named Tim Scott has found a typo in the Tableau Comparatif des Intervalles Musicaux, Alain Danielou's encyclopedic 1958 catalogue of all even marginally significant intervals within an octave. On the right-hand bottom corner of page 48, the interval listed as 569/512 should actually be 567/512, as 3 to the 4th power times 7 is, of course, 567: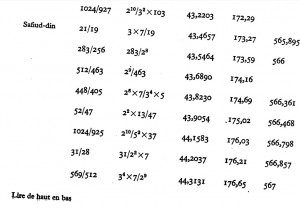 And as Tim points out, this is one of the intervals used in The Well-Tuned Piano. All fanatical microtonalists please mark your copies accordingly. That is all.
UPDATE: The day that Amazon extended its reach into the nation's used-bookstores was one of the greatest days of my life, and has compensated for many of the indignities of living in the 21st century. I first saw Danielou's Tableau Comparatif des Intervalles Musicaux in La Monte Young's apartment, and lusted after it mightily. More than a decade later, once the used-bookstores went online, I found it over the web in a little store in Oregon. The nice lady who sent it to me had no earthly idea what it was, but said, "I knew someone was eventually going to know what that was and want it."
FURTHER UPDATE 2.5.16: In response to this post, over at Disquiet, the ambient/electronica site,
Marc Weidenbaum has posted a series of pieces exploiting the difference between the 567th and 569th harmonics. It seems his internet group, The Disquiet Junto, posts a compositional challenge each week, and everyone has four days to come up with a short piece in response. This is really cool!