In the earliest years of the 20th century, Charles Ives was working for Charles H. Raymond & Co. insurance company in Wall Street. On weekends he would escape the city to Pine Mountain, a beautiful nature reserve south of Danbury where the Ives family owned land, in order to compose there. Some of his early works are marked with the notation "Pine Mountain," including the First Piano Sonata, whose earliest sketch is dated Aug. 4, 1901. And today there is a long trail through the Pine Mountain nature reserve called the Ives Trail, running from Ridgefield to Bethel. And so as the end of our book-buying Concord, Mass., vacation (the only kind I let my wife take, but she claims she doesn't mind), Nancy and I came back and took in some of the Ives Trail. (Among other things I bought The Oxford Handbook of Transcendentalism, $120, as well as a used copy of Glenn Watkin's The Gesualdo Hex, which I unaccountably hadn't known about, plus the new Murakami novel. I passed up a first edition of Bronson Alcott's sonnets for $150. Oh well.)
The Ives Trail runs for several miles, but I only wanted to see Lookout Point where Ives and his brother Moss built a cabin. The trail is a hell of a lot more rustic and rocky than I anticipated, and pretty stiff climbing: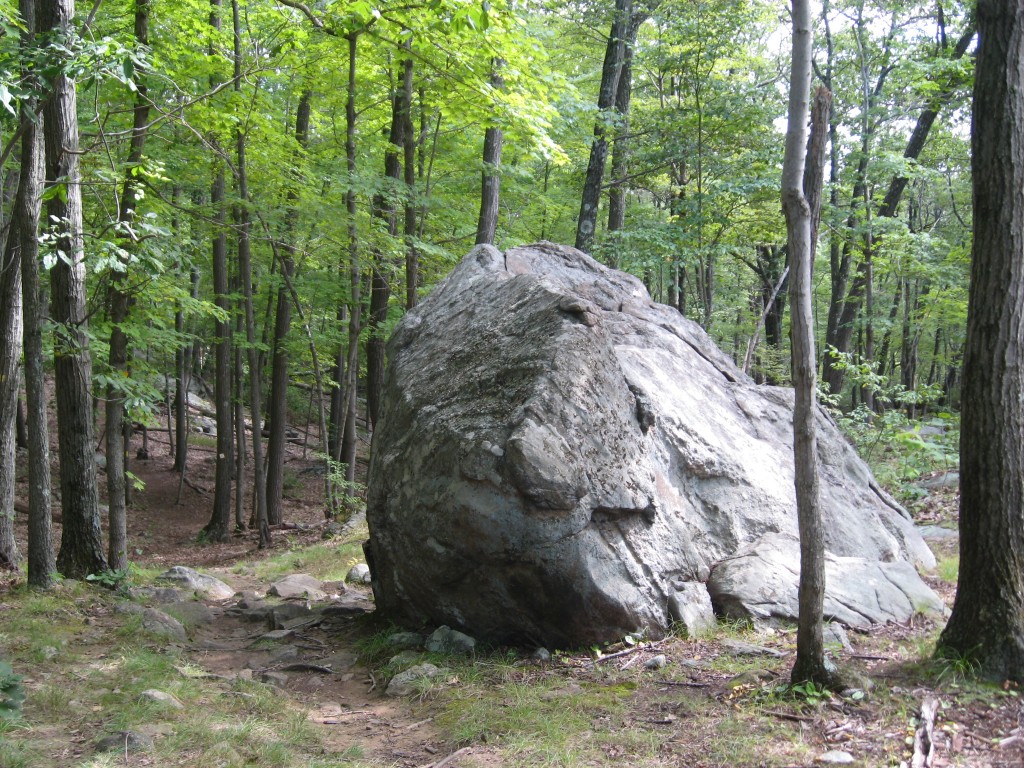 You know, I grew up in Texas, and I rather thought all the East Coast states had been paved over decades ago. It's way out of the way, on a narrow little road outside Ridgefield, CT, and it's marked all along with little Ives Trail signs with treble clefs on them: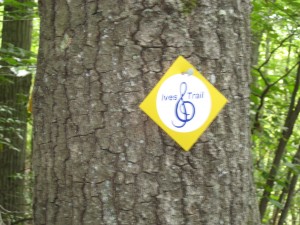 I didn't get the impression that any of the hikers we ran into had the slightest idea who Charles Ives was. (I kept expecting to run into musicologists.) I would have been happy to conduct a tour. And the spot where Ives and Moss built their cabin in 1903 was at Lookout point, which I would have to think is the most exquisite panoramic view in the state of Connecticut: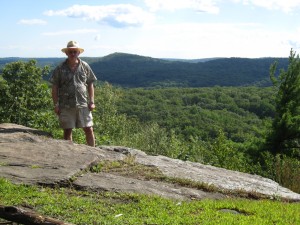 We couldn't take a photo that would do the cliff behind me justice. Had I fallen backward here, I would have hit a rock about eight feet below, and if I bounced off that, the next plunge would have been forty feet or so. But this rock was apparently the site of Ives's cabin. Here's another photo: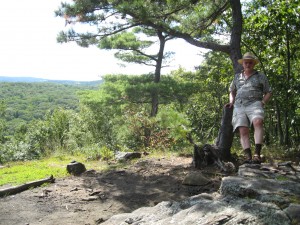 (Please click for better focus; my legs are well worth it.) It was all Nancy and I and our tiny little dog Gita could do to get the mile and a half to this point. I've been realizing more and more how wrapped up Ives's philosophy of music was with the aesthetics of nature, and that he conceived so many early pieces here made perfect sense.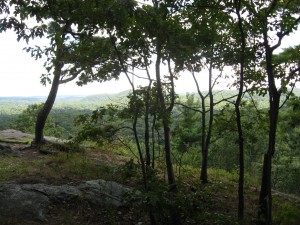 So now I've been to the places both piano sonatas were conceived. And I'm just a few hours of work away from having the manuscript ready to turn in. Seeing Pine Mountain was one of my last check-off points.
[UPDATE] A couple more: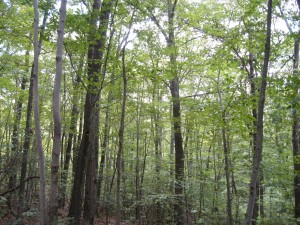 And the size of the dog we brought. Gita is a seven-pound shih-tzu/yorkie mix, but she scrambled up those rocks like a labrador: