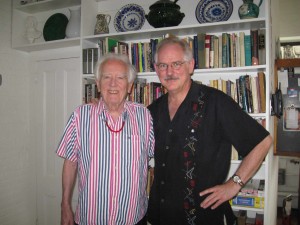 It's already speeding around Facebook, but Tom Hamilton wrote an hour ago to inform me that Robert Ashley died at 1:30 this afternoon. Around last June Bob got a confirmed diagnosis of cirrhosis of the liver, and he lost 30 pounds over the summer. I went down to see him one time after my book on him was published; I had hoped to see him around last Christmas, but my books always get delayed, and by the time it came out I was lost in the semester's maelstrom, and didn't see him until after the diagnosis. His butt had become so bony he had to sit on a cushion. He wrote a gratifying inscription in my copy of the book, and we had a wonderful talk, which I think we both knew would be our last, although he urged me to come back again. He would have been 84 by the end of this month. He drank considerably all his life, and I suppose it finally caught up with him – though I told him, a man ought to have a right to decide what he's going to die from, and if I thought I could drink vodka and tequila like a fish and live to 84 firing on all pistons like he was, I'd throw moderation to the winds. Good for him. I don't begrudge him one drink. It was part of his persona and part of his music.
Having published a book on him fairly recently, I don't know how much else I can say. But the reason for writing the book wasn't because I thought I'd get much from it academically or monetarily, just for the opportunity to spend 28 hours interviewing the most scintillating personality I've ever known. He was so incredibly brilliant and original and alert and non-repetitive. His enthusiasm was unremitting and contagious. My every visit with him left me in a joyous, hyped-up mood, buoyed by his devil-may-care Aries courage. I'd ask a question about his music (I say this in the book), and he'd close his eyes and start telling a seemingly unrelated story, and I'd think maybe he was getting senile, but half an hour later he'd get around to answering my question, which needed a nested set of stories to be intelligible. I'd ask about a piece he wrote thirty years ago, and he'd sit down and play the chord progression it was based on on the piano. Once, out of the blue, I needed the chord structure for eL/Aficionado, and he reached over, picked up a piece of paper, and said, "Here it is." For a wild creative type, he was the most organized person, inside and out, I've ever seen. He seemed to have total recall of his entire life and his entire output. He was bitter that he hadn't gotten more attention for his astonishing creative achievements, but the bitterness only burst out in moments, and his sunny enthusiasm for everything in life would quickly crowd it out again. He was a fabulous role model.
And let it be set down, Bob was one of the most amazing composers of the 20th century, and the greatest genius of 20th-century opera. I don't know how long it's going to take the world to recognize that. And it hardly matters. He knew it. That the world was too stupid to keep up was not his problem.
UPDATE: I just learned that Bob apparently completed, before he died, a piece called Mixed Blessings, Indiana. It was one of a list of seven-syllable titles he had come up with many years ago for all future pieces, and he was particularly proud of it.