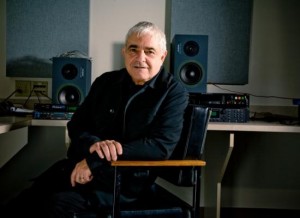 This morning I lost one of my dearest friends and most important musical role models, and the world lost one of its best composers. Bill Duckworth was diagnosed with pancreas cancer a year ago last February. He got into a state-of-the-art therapy program, and had the disease in remission, and for quite a few months it looked like he was going to beat one of the fastest and most lethal cancers there is (and the same one that killed Morton Feldman). But he finally started having bad reactions to the chemo, and it wore him down. I had heard about a week ago that he had decided to go off chemo, and he went fast after that, slipping away about midnight last night, according to his wife Nora, who called this morning.
I've written many, many composer obituaries, but I don't know if I can do Bill justice, at least not so soon. He was a quietly upbeat character, a Buddhist with a cynical but philosophical approach to life. I thought of him as a classic Capricorn, restrained and a little impenetrable, but mischievous and loyal. He had a tough early life. His father abandoned the family and never wanted anything to do with Bill, and his mother died, of cancer, while he was in high school. He was able to chuckle at adversity, and you got the feeling that whatever happened, he'd seen worse. He got all his degrees in music ed, because he had started out in that major, and (as he told me) it was the late Vietnam era in which, if you changed your major, the government suspected you were trying to extend your education to avoid the draft, so they drafted you. He taught at Bucknell from the mid-1970s on, loved by students (including my son, who studied composition with him), though considered a loose cannon by the administration, who couldn't seem to deal with their nice young music ed guy becoming a famous composer. Bill gave me advice about surviving academia that I quote to myself every week: "Don't talk to the adults." Of the undergrads, he liked to say, "Everything you tell 'em is news." He also said "We're living in strange times" often, the whole 25 years I knew him, a phrase I associate with him. He was just about to retire from teaching when he got the cancer diagnosis.
Bill's most famous piece is undoubtedly The Time Curve Preludes, and he seemed to always think it was his best as well, along with Cathedral, the huge interactive internet piece he spent his late years on. (Hard to talk so soon about those having been his late years.) The Time Curve Preludes is indeed a wonderful piece (there's a lovely new recording by pianist Andy Lee on the Irritable Hedgehog label) and one of those pieces in which the way its composer thinks crystallizes and becomes indelible, but I never thought it was fair for Bill to come off as a one-work composer. Later pieces of his, I think, have more depth and dimension: Blue Rhythms, Imaginary Dances, Mysterious Numbers, Simple Songs about Sex and War, Gathering Together/Revolution, and, of course, Southern Harmony, which was kind of the choral companion piece to Time Curve. After he married technology genius Nora Farrell, Bill took on a new life as one of the pioneering internet composers; I wasn't always tech-savvy enough myself to follow along, but he became famous in Australia and gained a worldwide following. I have frequently described Bill's music as Mozartean, by which I mean it has a clear right-brain logic that is difficult to pinpoint but easy to hear. If the culture ever changes so that elegant design is once again as highly valued as macho eclecticism, I think it will be realized that Bill is a truly major composer; even as it is, there are many younger composers who think so. As far as I know, I'm the most Duckworth-influenced composer alive. Back when my music was rather impractically caught up in Herculean rhythmic complexity, Bill's ensemble music gave me a new model for streamlining and spreading out the rhythmic interest for more grateful performability. Several of my pieces (Private Dances, New World Coming, movements of The Planets and Implausible Sketches) were explicit attempts to compete with him on his own territory and learn from him.
Bill hired me to teach part-time at Bucknell in 1989; without that early foot in the door, I would almost certainly not be in academia today, because everyone else in that world considered me a dangerous radical. For several years while I was at the Voice Bill and I had lunch at Bennie's Burritos in the West Village almost every week. That was a fun time. "We're living in strange times" was the final cadence to many a topic of conversation. Summer of 2011, after his diagnosis, we spent a couple of afternoons together and I recorded some long interviews about his life and music, so that he would have his own input to an eventual biography. We joked about death being the last desperate career move a composer had, because they never seem to take us seriously until we're dead. After that, as recently as last spring, I really thought he was going to make it and we'd be able to have those lunches again.
Bill worked with Relache in the old days, and we'll dedicate tonight's performance of The Planets to him.
The times suddenly seem a lot stranger.