I've loved George Rochberg's Serenata d'Estate (Summer Serenade) since I was in high school. Yesterday, for the first time, I finally analyzed it in the classroom. The little repeated-note gestures in the senza battute sections:

have always reminded me of similar figures in George Crumb (
Eleven Echoes of Autumn
,
Mikrokosmos I
, and other works):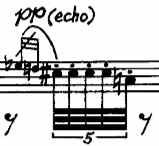 In fact, such figures don't appear again in other Rochberg works I know (though I'm sure I've heard only half of his output at best), but they become very important in Crumb's 1970s music. Rochberg wrote
Serenata d'Estate
in 1955 and came to the University of Pennsylvania in 1960; Crumb joined the faculty there in 1965, and wrote
Eleven Echoes
 that year. I wonder if there's a connection.
Likewise, the hypnotic repetitions in
Serenata d'Estate
: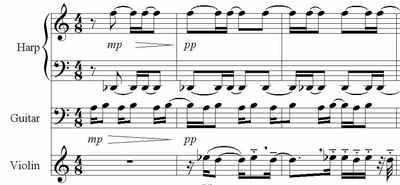 are extremely unusual for a period that eschewed repetition. They remind me very much of repetitions in Feldman's
Structures
for string quartet of 1951: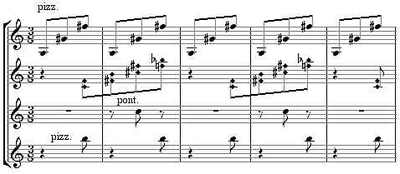 Rochberg spent the 1950s as an editor for Theodore Presser, but
Structures
doesn't seem to have been published until 1962, and it's hard for me to imagine Rochberg would have heard it. But it's curious, two composers so disparate in background having written repetitively static music, in implied triple meters with cross-rhythms yet, in an era that was virtually hostile to such an idea.
Some of the students in my 12-tone class, once they realized what 12-tone music is, attempted to flee, but couldn't find other classes to get in to, so now they're a captive audience.
Serenata d'Estate
was the first piece that met with general approval; Rochberg's Second Symphony was the first to elicit a unanimous roar of enthusiasm. The other piece I will have spent more than two hours analyzing at the blackboard this week, in my Beethoven class, is the Archduke Trio, one of the most perfect pieces ever written, and another one that I've never had the opportunity to analyze in depth until now. It's been years since I've been so involved in the material I'm teaching.