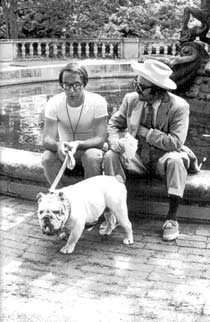 One of the things I needed to research for my Robert Ashley book was the
Dr. Chicago
films made by George Manupelli at the end of the ONCE festival era, 1968-71. I had seen them at Wesleyan University in, I believe, 1994, at a festival of Alvin Lucier's music – because they star Alvin Lucier. (At right are pictured Manupelli and Lucier during the filming of
Cry Dr. Chicago
, 1971.) Lucier had a famous and ferocious stutter which he and others made musical use of, and it is certainly part of the character here. Ashley did the sound and music for the films.
Well, I didn't know how I was going to beg, borrow, or steal these films, but it turns out they were made available on DVD last year, and you can get them at 
georgemanupelli.com
 for only $50. Who knew? So I received mine yesterday. Manupelli decided not to use actors but avant-garde artists from other media, and so Alvin plays Dr. Chicago, a grandiose medical quack who kills almost everyone he operates on, and is continually on the lam; Ashley's first wife Mary, a photographer and performance artist, plays his long-suffering girlfriend Sheila Marie; experimental dancer Steve Paxton plays a mute who gets killed in every movie, like Kenny in
South Park
; and Pauline Oliveros has a bit part in
Ride Dr. Chicago Ride
as an accordion-playing desert rube who likes rattlesnake meat pizza. The films are intermittently hilarious. The first one,
Dr. Chicago
, makes
Waiting for Godot
look like an action thriller by comparison; it's mostly a 90-minute Lucier monologue, with bits of plot only at the beginning and end. The movies were made on a shoestring with low production values and no script, and it's often evident that Alvin is just talking off the top of his head. Nevertheless, the dialogue in
Ride, Dr. Chicago, Ride
made me burst out laughing several times. There was also a fourth film,
Dr. Chicago Goes to Sweden
, but Manupelli got pissed off at a film festival in Toronto and drove around town with the only copy of the film unreeling out the window of his car. The essays in the accompanying booklet give a lot of context from the people involved. I don't say they're the best experimental films I've ever seen (I'm a huge fan of
Greaser's Palace
 – ever hear of it? – and
Eraserhead
), but they're a fascinating and intimate look at some of the people who put together the ONCE festivals, and at times they're really endearing. And, after almost 30 years, now you can just buy them. Amazing.