I've come up with what I think is a comfortable performance notation for Dennis Johnson's

November

. It's all noteheads in a pulseless continuum, but I needed to preserve his motivically significant phrasing without imposing any kind of rhythmic grid. So I made a Sibelius score of 5/4 measures, each lasting ten seconds at 8th-note = 60, and within that placed each note where its attack point comes on the tape, to the nearest 16th-note. Then I went through and deleted all rests, stems, and bar lines, reducing the music to stemless noteheads. The result is pretty much in proportional notation; Sibelius shifts the rhythmic spacing for readability, but I used small-value rests throughout to squeeze the music into relative space-time uniformity, certainly close enough, I think, for intuitive performance purposes. (If there's a way to make Sibelius absolutely proportional, I'd love to hear it.) Hoping you can read it squeezed into this space, here's a sample of the result (each system represents one minute):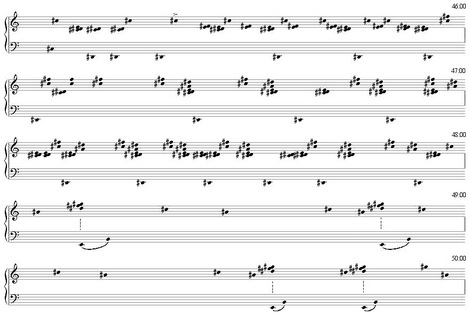 And here's an mp3 of this passage in the original 1962 recording so you can compare. (I suppose you might have to reopen Postclassic in an additional browser window to listen and follow along at once.) This is one of my favorite moments in the performance, where the relatively dense (by '50s minimalism standards) section on the dominant of G# minor gives way to a kind of beatific deceptive cadence and much slower material. Each section of the piece, each tonality, has its own atmosphere and tempo that seems drawn from the intervals played around with.
And that's the problem: you can't gather that from the original notation. The first three systems above are all drawn from this little bit of Johnson's score labeled IIIa and IIIb: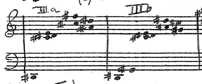 Wherever this material recurs, it's the fastest part of the piece, with a kind of anxious melody leading down from F# to D# to C#. In some notes he apparently made later in the 1980s, Johnson singles this material out to try to figure out what his logical process was, which was a kind of ABACABACDCDB, and so on, among closely related figures. The E major material that follows, on the other hand, doesn't appear in the manuscript score at all. The piece is intended to be improvised from the scores, and needn't duplicate the tape; in fact, an alleged four hours is missing from the tape. So neither the score nor the tape is sufficient to construct a performance. Using the score, a pianist could play the work, but only after considerable study of the available 112 minutes on the tape, to find out how Johnson moved from one section to another and how he characterized the material in each section. It's a peculiarly hybrid form of improvisation, in which you're limited to what's on the page, but the page isn't enough. Hopefully my transcription will yield up enough analytical insight to resurrect some version of the whole thing.