Anyone ready for another year of music theory talk? I did my annual shtick this week on odd meters. You can anticipate me: Holst's "Mars," the ancient Greek "Hymn to Apollo," and Brubeck's Take Five for quintuple meter; Pink Floyd's "Money" for seven; a long passage from Roy Harris's Seventh Symphony, plus a Bulgarian "Krivo Horo" for eleven; the "Blues" movement of Ben Johnston's Suite for microtonal piano for thirteen; Waylon Jennings's "Amanda" for fifteen; and the end of the first movement of my Desert Sonata for a long passage in 41/16 meter. Only this year, I have a student, Benjamin Bath, who grew up in a Greek family and going to Greek weddings and all that, and every meter I'd start to mention, he'd reel off all the traditional Greek and Macedonian and Bulgarian songs, and already knew the couple I played. So Monday he brought in a book, The Pinewoods International Collection selected by Tom Pixton and published by NightShade, and let me copy some examples. Try humming through this little number: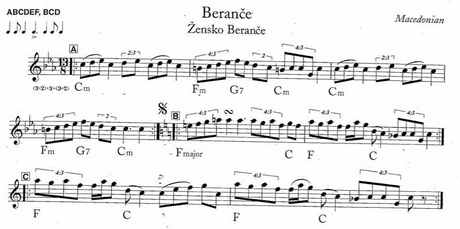 And here's another, much easier to play, but impressively in 22: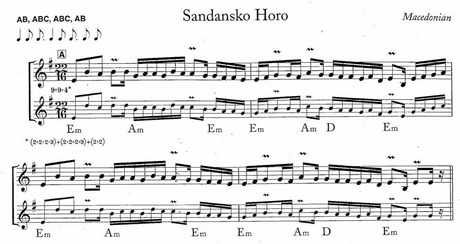 A little more chromaticism, and these melodies would look like
I
wrote them. From my readers' previous 
very informative debate
, I know that some will object to the very notating of these traditional tunes, claiming that they can only be learned orally, and I reiterate the most relevant comment left by someone who knew this music:
[T]he Bulgarians DO NOT count out every "8th" or "16th" note while performing their music. They express them as long and short beats. They actively discourage trying to count it out, and expressed that the only way to hope to begin to play it accurately would be to feel the long and short beats.
Doubtless true, making the whole topic an excellent entrée into teaching students that there's more than one way to scope out rhythms, and entire societies in which consecutive beats are not assumed "steady," but can be different lengths. Helpfully, Pixton's edition marks out the underlying rhythm on the top left of each example. But since I do teach the blackboard theory class and am pretty reliant on notation, I'm thrilled to have more than just a couple of token examples of 7, 11, and 13 – and not only examples by weird avant-gardists like myself, but by normal people who play at weddings. 
In fact, I've got to move to Greece or Bulgaria – out someplace where I can teach some real

man's

theory. I've had it up to

here

with this pusillanimous 2/4, and 3/4, and hidden fifths, and D# equalling Eb.