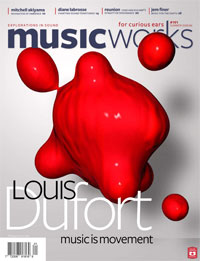 This month's Musicworks magazine contains an interview with me, written by editors Gayle Young and David McCallum, and titled "Pitch and Rhythm Guy," which is something I called myself during the course of the interview. The accompanying disc contains two pieces of mine, the final scene of Custer and Sitting Bull in its sparkling new rendition with the sounds redone by M.C. Maguire, and a keyboard piece called Triskaidekaphonia, which I've written about here before. Gayle and David generously let me ramble on about my music, including my relationship to jazz harmony, astrology, microtonality, American Indian music, and so on. I feel I internalized pretty early in life that the next thing to do in music was to find new subtlety and new kinds of organization in music's two highest-profile parameters, pitch and rhythm – just as most of the music world was giving up on those directions as having been perhaps exhausted, though there were a number of composers of my generation who made a fetish (in the best sense) of performable rhythmic complexity. 
I hope everyone knows
Musicworks
, out of Canada, the most intrepid English-language (and sometimes French) music journal out there. They're generally too focused on improvisation, noise music, and kind of high-concept conceptualism, and too little on notated new music, to fall in my direct line of vision often, but they certainly draw a courageous amount of attention to an enormous number of creative musicians who get little press elsewhere. The other composers on the disc are Ann Southam, Louis Dufort, Chris Bryan, Maggie Nicols, and Marla Hlady – we're not the usual suspects you see in the
Times
.
Also, my
Chamber Music
profile of Alvin Singleton is now 
online
, sans mistakes.