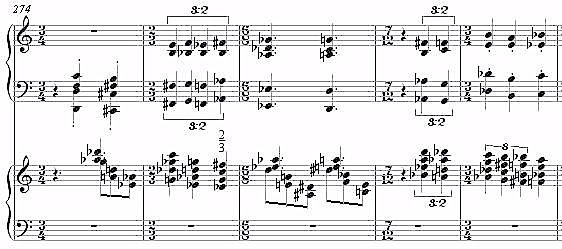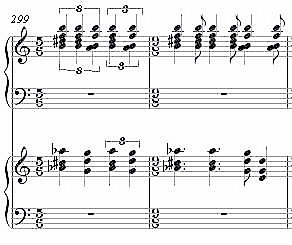 How's it look? This is how far I've succeeded in notating meters like 2/3, 7/12, and 5/6 in Sibelius. I have to put in a false meter, input the notes, delete the meter, insert the real meter via "Text > Special Text > Time Signatures," and then add the brackets manually. I can't decide whether it's clearer to put a "3" over two or four quarter-note triplets or "3:2." And I wish I could put a space in that bracket for the number. Suggestions welcome.
Those examples are from my I'itoi Variations of 1985. I admit that since I started using notation software in the mid-90s I shy away from meters like that – though Sibelius has opened up a myriad other possibilities in multitempo music for Disklavier, so it's a trade-off. I notice that Michael Gordon, the other composer I know of to use unconventional tuplet groupings the way I do, always seems to expend considerable ingenuity in aligning his tuplets so that they'll fit within a conventional meter – at least in pieces I have scores of, like Yo Shakespeare:
and Trance:

If I'm going to use this idea at all, I find this solution too limiting. I want 7/5 meter, and 25/13, and the whole megillah.
[UPDATE:] Not only is it too limiting, ultimately I think it's too difficult to perform. Michael writes these kind of rhythms for new-music groups, and they negotiate them well as a chamber-music kind of thing, but I've never seen him try it with orchestra. For conducting purposes, I think it would be easier to notate the passages of his above as alternations of 2/4 and 2/3 meter, which would also allow the music to expand outside the 4/4 framework. For instance, I can't imagine maintaining a 4/4 beat through the Trance example above, but I think my examples could be conducted.
I think that humans are capable of learning to switch to a tempo 2/3, or 4/3, or 3/4 as fast as a preceding tempo – and that, in fact, the composers of my son's generation are pushing us toward that capacity.