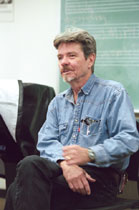 The great James Tenney died last night [actually, the night before, August 24]. Word went around a few weeks ago that his old lung cancer had returned after a long remission of many years. He was a great teacher, great drinker, great companion, and an interestingly odd personality. As a composer he was a kind of hard-core conceptualist driven by theoretical curiosity. As a result his music could be awfully dry at times, but in about half of it or more the conceptualism transformed in kind of an amazing alchemy to an extreme sensuousness, lovely, slow sound-metamorphoses that you just couldn't believe. I'll repeat here what I said about him in American Music in the Twentieth Century:
In a way he stands at the center of American music, a kind of focal point: he studied and worked with seminal figures such as Varèse, Partch, Ruggles, Cage, Kenneth Gaburo, and Lejaren Hiller; he performed in the ensembles of his contemporaries Philip Glass and Steve Reich; and he has taught some of the leading young composers, including John Luther Adams, Polansky, and Peter Garland. Though his music and interests put him squarely on the side of the experimentalists, he is the only such composer so admired by the academic establishment that an entire issue of the academic journal Perspectives of New Music was devoted to his music. No other composer is so revered by fellow composers, and so unknown to the public at large…
It's difficult to believe he's gone, and he will be sorely missed.
UPDATE: Read the comments for a number of personal reminsicences about Jim by his students, colleagues, and young composers who met him.