Look where I'm going: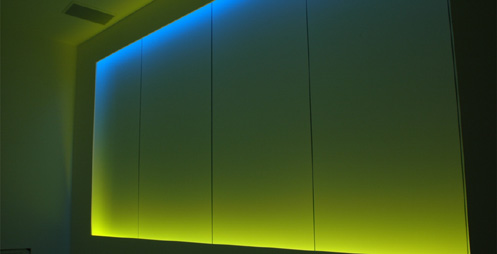 Saturday morning before dawn I'm flying to Fairbanks, Alaska. John Luther Adams has a permanent sound and light installation opening this Tuesday, March 21, at the Museum of the North at the University of Alaska at Fairbanks. The installation is a set of rooms called The Place Where You Go to Listen, which is a translation of an Iñupiaq word for a legendary place on the arctic coast. Called by its creator "a virtual world that resonates with the real world," The Place Where You Go to Listen translates seismic activity, geomagnetism, cloud cover and visibility, and the movements of the sun and moon into soundscapes and changes of light. The image you're looking at above is a set of five glass panes altogether 20 feet wide and 9 feet tall, coated with a diffusion surface and illuminated by LED floodlights that make it a rear-projection screen for fields of pure color. The colors change with the angle and position of the sun in real time. Bell sounds are activated by movements of the aurora borealis, noises ebb and flow with seismic activity, and harmonic series' track the phases of the moon. It's all done by computer, with data piped in from seismological stations and whatnot, and is intended to make the viewer/listener aware of where the earth fits into its environment and what it's doing. It looks and sounds like it'll be really beautiful.
Weather.com predicts it will be minus 11 degrees when I get there [oops, John just e-mailed that it was 26 below last night]. Have I ever mentioned that I'm a warm-weather kind of guy, and already resent that upstate New York gets down to 20 above? Anyway, John's promised me a dogsled ride – I didn't ask, but he volunteered – and after the opening we're sure to retire to another hallowed Iñupiaq spot, The Place Where You Go to Imbibe Fine Single-Malt Scotches. I'm looking forward to that too, and, after I return on the 23rd, will report back to you on the beauty of the whole experience. Or what I remember of it.