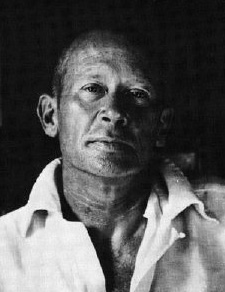 I'm writing a choral piece for my choral director friend James Bagwell, and am hip-deep in e. e. cummings. I've learned that I had him all wrong. From cute poems with words like "mudluscious" and "puddlespring," I had gotten, in high school, an impression that cummings was a pixieish little man with a coy sense of humor and a mischievous twinkle in his eye – quel misconcepción! And my high school literature texts aren't to blame, for the average cummings poem, it turns out, contains too many obscenities and sexual references to make it past the school board censors. Here's a sonnet-picture that absolutely knocked me over, a photorealist word portrait of nightlife in the 1930s (and one I haven't found elsewhere on the web):
helves surling out of eakspesies per(reel)hapsingly

proregress heandshe-ingly people

tickle curselaughgroping shrieks bubble

squirmwrithed staggerful unstrolls collaps ingly

flash a of-faceness stuck thumblike into pie

is traffic this recalls hat gestures bud

plumptumbling hand voices Eye Doangivuh sud-

denly immense impotently Eye Doancare Eye

And How replies the upsquirtingly careens

the to collide flatfooting with Wushyaname

a girl-flops to the Geddup curb leans

carefully spewing into her own Shush Shame

as(out from behind Nowhere)creeps the deep thing

everybody sometimes calls morning
I start to feel hungover just reading it. And here's another cummings ditty that wasn't included in my high school literature text. See if you can guess why:
may i feel said he

(i'll squeal said she

just once said he)

it's fun said she

(may i touch said he

how much said she

a lot said he)

why not said she

(let's go said he

not too far said she

what's too far said he

where you are said she)

may i stay said he

(which way said she

like this said he

if you kiss said she

may i move said he

is it love said she)

if you're willing said he

(but you're killing said she

but it's life said he

but your wife said she

now said he)

ow said she

(tiptop said he

don't stop said she

oh no said he)

go slow said she

(cccome?said he

ummm said she)

you're divine!said he

(you are Mine said she)
And, no, this probably isn't one I'm going to set for chorus. Yet.