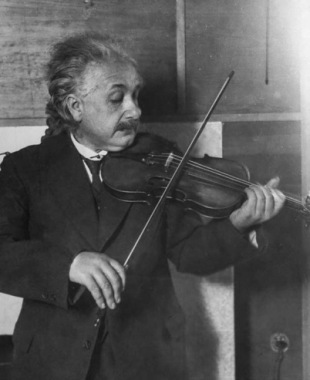 It can happen, in the laboratory of the concert — you notice things, discovery occurs. Suddenly, sometimes surprisingly, associations are made, even in music long-practiced.
During the summer in France, I performed my solo piano transcription of "Knee Play 4" from Philip Glass's Einstein on the Beach. And, in an auxiliary channel of thought — aside from the monitoring of my playing, aside from giving the performance — I made observations.
All those shifting arpeggios in the high register (played on violin by the character Einstein in the opera) might represent the activity of Einstein's brain. In this music, are we hearing the process of thought? (Music models many processes outside of itself.)
As one of Einstein's "ideas" undergoes revision, the twists and turns of the arpeggio figures spin out, the length of the measure and the groupings within it continuing slightly to alter. Meanwhile, the steady shared knowledge of the choral lines remains, in the long low-notes. (In my piano version, the left-hand part.)
The ending phrase of this music reveals an E Major chord.
E = Mc²