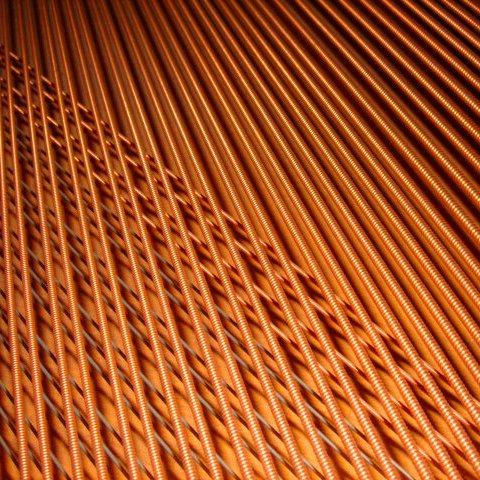 "The first question I ask myself when something doesn't seem to be beautiful is why do I think it's not beautiful. And very shortly you discover that there is no reason."

— attributed to John Cage
The sound coming from pianos (the physical, real sound) may displease the pianist. In trying out a concert piano, there are often several notes on the instrument that just can't be made to produce what is wanted. Those notes may need "voicing" — a piano technician needs to prick with needles or apply lacquer to the felt-covered hammers that are inside the piano. After extended playing, hammer-felt gets compacted, making for an edgy or unpleasantly metallic tone, a tone that may not match well with surrounding notes that are more rounded in sound.
Here is a note on my piano — that has unpleasant plangency. Played louder than mezzo-forte, it has a quivery metallic edge at the onset of its sound. And there's some sort of warble that happens as the tone continues, probably due to the interaction of sounds being made by the 3 strings inside the piano that produce the note. (For most notes on the modern piano, there are 3 strings all tuned to the same pitch.) The warbling is probably "beating" due to the discrepancy in the precise tuning of the 3 strings. Although it's a bit wooden sounding as well. So, perhaps some more complicated problem… Such irregularities make it difficult to play smooth, legato musical-lines.
But wait. The very same qualities (faults) that make notes troublesome also give them individual character. So, a paradox: a piano of very homogeneous timbre and tonal intensity may not lead to expressive music making — it's too bland. Practically it's not an issue, because with an acoustic instrument made of wood and metal, it's not really possible to have extremely even results. So though it may frustrate the pianist that our technicians do not achieve complete evenness of tone, we might consider that this is one ideal that's better not perfectly met.
Some celebrated recordings of piano playing were made with pianos with sonic "faults." Listen to Chopin's fourth prelude, as played by Alfred Cortot in his 1933 recording. Or Sviatoslav Richter's 1958 playing of Pictures at an Exhibition. In these cases, the particular beauty of the performances almost seems to depend on the irregularities of piano tone and tuning. I feel certain that a performer can incorporate the finely-discerned irregularities of a particular piano into performance.
Imagine a Cageian exercise. On a piano, play one note over and over. Make a list of every tonal and timbral irregularity (problem). Continue playing the note. Make a list of every particular aspect of the note's beauty. Compare the lists…