In coaching a student in a master class, Alfred Brendel mentioned that very tapered phrase-endings may not allow for long-range musical continuity. If some notes in a cantabile phrase are much softer than the rest, those soft notes may seem to belong to another voice — they drop out of the line, or suggest a subsidiary one.
(In very soft tapering at the end of a melodic line, frequently I have the sense that pianists lose contact with the music, or with the process of music making, perhaps in the service of sonic detail. The prettiest moments may mark gaps of coherence.)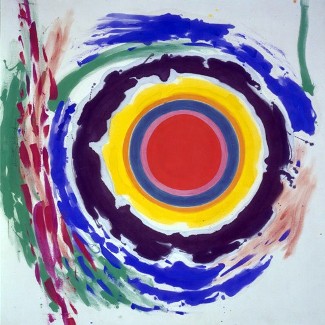 Achieving long continuity in solo piano pieces is especially challenging. No other musicians to help the pianist along. No conductor…
The player's own continuing (unwavering?) attention to the music really matters. And the achievement of that continuity may be rooted in physical behaviors.
What do we look at while playing? In a memory-performance, there's no score to read. We may look at our hands and the keyboard. Or perhaps stare provocatively upward…at the heavens? To me it seems, a fairly limited range of vision will help us. If the head and eyes move very widely or very suddenly, continuity of sound and line are more difficult to achieve. (I'm not a fan of closed-eye playing either. Too much loss of contact with the real physical sound in the room, I believe.)
Some players, often of great intelligence, get into a condition of insufficiently-focussed hyperawareness. Their attention/consciousness is taking in so much, or too rapidly switching from awareness of one dimension, task, or idea to others. Physical vision may slightly blur, eyes not quite focussing.
Easily followed limits on the player's field of vision can be a good technique for exploring this issue. "Look mostly at this spot on the wall in front of you." Or, "Move your head and eyes only within these bounds."
Stephen Hough described a series of caricatures of the pianist Benno Moisevitch. No matter the music, tempo, or mood, Moisevitch has unchanging posture and facial expression in the images. Without discussing how the music sounded, I can say that I expect he was able to hear very, very well.