"I repeat all the great experiments of the 19th Century. My results are much better, more consistent, and more subtly nuanced."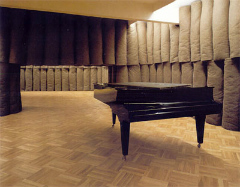 What will I think of the scientist who makes such a pronouncement? I might think that person's not a scientist. A craftsman perhaps. An artisan or hobbyist? But this guy's goal in the laboratory would seem to be something other than discovery, something other than science.
And doesn't this apply to art as well?
Yes, there's Pierre Menard, in Borges story, writing (anew) passages of Don Quixote, word-for-word:
"To compose the Quixote at the beginning of the seventeenth century was a reasonable undertaking, necessary and perhaps even unavoidable; at the beginning of the twentieth, it is almost impossible. It is not in vain that three hundred years have gone by, filled with exceedingly complex events…"
So to play music by Beethoven today may be to recontextualize it. It's not to say that there can't be art in that — in that rereading. But it's quite specialized. To approach an array of music, including music written now, the useful occupation of making, playing, and hearing music that has not been heard before — that's the work of the professional musician, the "expert" practitioner.
Some in classical music, consider musicians who play new music to be specialists. In pop, musicians who only repeat the past (cover bands) are usually peripheral.
Someone who does not work with an aspect of present research or practice can't be considered "professional." For me, it is not those classical musicians who play new music that are the specialists — it is those who access only music by Beethoven and Brahms.