Piano keys are made of wood that's weighted with metal, and faced with plastic in place of what used to be ivory. They are levers. How exactly a musician touches these sticks may or may not alter the physical sound the piano makes.
The cultivation of legato — the binding together of successive tones produced with flexible wrist — is an important aspect of classical piano training.
Some of us wonder about the science of legato, of what we teach and do. How is it that flexible-wrist-resilient-fingers playing is causing the black box to yield the precious sound elixir? Maybe it's our perception of sound that's altered with these carefully cultivated gestures? (In helping students, I believe it's important to listen and not watch as they work on this technique.)
I've prescribed playing on a kitchen sponge to discover the combined physical sensation of resistance and giving way that is legato. A padded chair seat will do.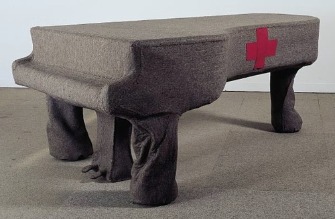 Perhaps if piano keys were just made with upholstered key tops? Of course our fingers are themselves "padded." An awareness of the sensation of their give, a physical sensitivity of the finger tips, may be part of legato, part of "singing" tone, of cantabile playing. In Roland Barthes opinion, the pad of the fingers is "the only erotic part of a pianist's body."
To cultivate toneful legato, a colleague tells students to imagine their wrists are moving through a big pot of honey. But unavoidably that mental picture reminds me of Karen Finley's performance piece in which her skin really was honey-doused.
Anything for legato.