In his anxiety, Johannes Brahms read the slow movement of Ludwig van Beethoven's piano sonata, opus 10, number 3,


and penned his own intermezzo in E-flat Minor, opus 118, number 6:


(If D goes to C-sharp, then D Minor can go to E-flat Minor. Up can be down. 6/8 and eighth-notes, or 3/8 and sixteenths. Largo e mesto. Dies Irae? D-Es?)
Earlier misprision led Brahms from playing the slow movement of Beethoven's Opus 2, number 2,

to writing down the slow movement of his own cello sonata in F Major, opus 99: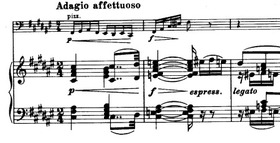 Beethoven knew Schubert's Erlkönig. And those sonatas by Dussek. How clever of Beethoven! But that's not the point. Because this is not history. Given a language — a culture of scripting — texts intersect, overlap. Texts refer, redact.
Schubert's B-flat-Major Sonata (now D. 960), written in 1828, was published for the first time in 1838. Schumann wrote about the sonata in an article concerning Schubert's last pieces, confessing: "There was a time when I spoke only reluctantly about Schubert, and only in the night to the trees and the stars… I thought of nothing but him." Also in '38, Schumann wrote his opus 16, Kreisleriana. But, this isn't a matter of history, of real or imagined events.
There's the beginning of Schumann's text (opus 16, number 2), with its registration, voicing, metric placement with syncopated phrase beginning, and key: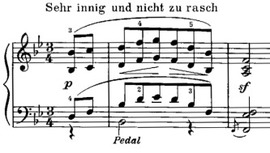 And there's the beginning of Schubert's text:


There's the F-sharp/G-flat ambiguity/trade/unity in Schumann's text: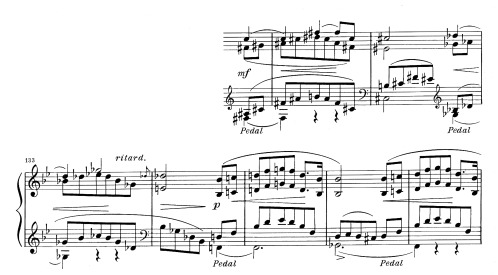 And in Schubert's text, G-flat/F-sharp, here and pervasively in the sonata: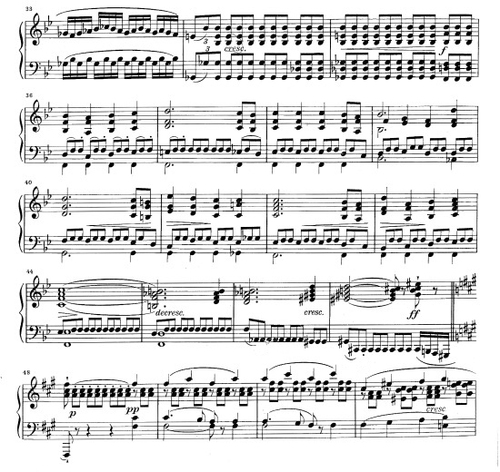 The beautiful/sinister/poignant resolution of the low G-flat is an octave lower in Schubert's text,

than it is in Schumann's: