During a master class I gave at the Gilmore Festival, I noticed something in Bartok's Barcarolla. The piece's notation mixes measures of 6/8, and 7/8, and 5/8. But in almost every bar there are two big beats. As in lots of folk music, and unscripted music, and perhaps in the actual performance of every kind of music — these beats are not equal in length.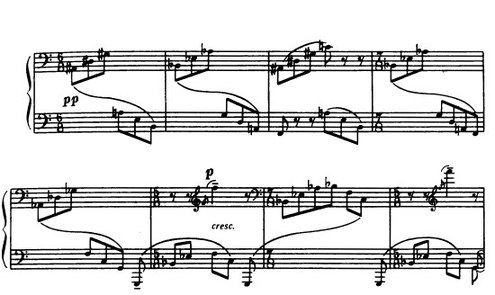 In Bartok's text, some of the large beats are equal to 3 eighth-notes, others equal 4 eighth-notes, or even 5 eighth-notes. There's some overlapping. As a long beat (4 eighth-notes in length) is finishing, another long beat might already begin in the pianist's other hand, as in measure 3.
The use of unequal beats or changing metric-groupings wasn't new. The early 20th-century's innovation was the bringing of temporal unequality into European musical notation, into high culture sound representation. Irregular beating and beat organization are pervasive in all music played by humans. (No two beats are created equal!)
As an encore at the Gilmore's concluding concert, Kiril Gerstein played an arrangement of "Embraceable You." On paper, Gershwin's song looks like it's in 2/2 time. Yet isn't a more subtle metric design embedded? At "em-BRACE-a-ble YOU!" in the song's chorus the music turns (for a moment) into a waltz (3/4), complete with "Viennese" rubato for the oom-pah.

The basic syncopation (I'm counting quarter-notes now: 1, 2-3-4) establishes a pattern of "embraces" through a duple pattern of unequal large beats. Here, at the beginning of the song's chorus, the pair of groups of gently ascending notes (Em-brace me, my sweet em-brace…), with their syncopated onsets, encode/insinuate the sliding of loving arms… (First the right arm, then the left?)