Perhaps we receive our most important education from models around us. We emulate them. And if we don't imitate behavior details, we may take on the approach or method of someone we admire.
Vicarious models can be important. At 14, I devoured Arthur Rubinstein's My Young Years. I loved it more than Mr. Rubinstein's playing that I heard on recordings. The book seemed to offer a complete how-to-live prescription to a young pianist — or young hedonist! I made lists of the pieces he learned, the cities he visited, etc.
In her book, The Soprano on Her Head, Eloise Ristad describes freeing students technically by asking them to imagine that they are an admired famous virtuoso. "For this phrase, you're Jascha Heifetz."
With a chamber music colleague, I began speculating about what certain celebrated musicians of the past might do, in addressing a particular phrase — or even a life issue. These thought experiments can be funny, and illuminating. Depending on which artistic model is guiding us, we come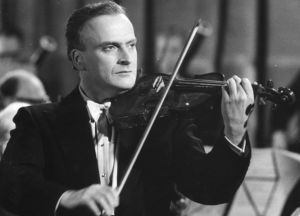 to rather differing conclusions about how freely to deliver a cadence rhythm. What would Furtwängler do? What would Volodya do? What would Szell do — or Lennie Tristano?
In trying to be our best selves, it felt particularly helpful to imagine what Yehudi Menuhin would do. He'd be ethical, he'd take the high road (tending to the Apollonian). His imagined reactions became a frequent matter of speculation one summer.
And so today, what would Yehudi do? At this particular cadence passage where a sudden burst of chromatic counterpoint makes me want to slow down a lot, I have to admit that Mr. Menuhin would likely sense the wonder of this passage, but never be so indiscreet in a performance as I'm likely to be.