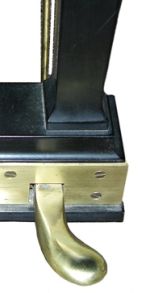 By some, it's considered a mark of distinction to play J. S. Bach's music on the modern piano using no pedal. Glenn Gould often did. Several of my students have aspired to. It seems like it must be harder to play that way, more pure, more noble. And the harpsichord has no such device for extending sound — so perhaps it's more "authentic" to eschew the pedal in old music?
I always use the pedal. Perhaps judiciously or even undetectably — to the non-pianist. But always. It's a bit of an obsession. I believe the piano's right pedal (that raises the dampers and allows sounds to be held or overlapped) is integral to the operation of the instrument. Really good pedaling is rare. The "close-up" of the modern recording is revealing. Tiny intersections between notes in a musical line, or transition from one harmony to the next, are more audible than in a concert hall. Especially in quiet music, subtle pedaling really matters in recordings.
I played a concert in Luxembourg that was linked to performances by one of my students — who likes to play old music on the modern piano using no pedal. I thought as a sort of homage I would play the tricky last movement of a piano sonata by Haydn without any pedal. I have to admit it felt a bit risky, until I actually started to work on the piece that way. Then I learned something: it's easier to play complicated fast piano music without the pedal!
The necessarily rapid changes of pedal in fast music introduce an added layer of syncopated physical activity that greatly increases the difficulty of the overall task. It's patting your head and rubbing your tummy on a large scale. It's "syncopated" in that the changes of pedal accomplished with the foot do not quite line up in time with the gestures being made by fingers and hand. The motor coordination required is much more complex than playing with the fingers alone.
The syncopated, overlapping binding of sound with the right pedal (that pianists now take for granted) may not have developed until the 1830s. Imagine slow movements of piano pieces by Mozart or Beethoven without the smooth connection of the foot… Typical pedaling in the middle 18th Century featured long sustained stretches of unchanging pedal — we see the evidence in Beethoven's and Haydn's markings.
As I practiced my unpedaled Haydn rendition, a difficult spot in the music that always challenged me was now easy. Aha, Gould was on to something!