There I was in the green room, about to play at the Gilmore Festival.
Included on the program was Chopin's Polonaise-fantaisie — music I've performed, coveted, engaged with, grappled with for 30 years. Over time, I've exorcised, from my playing of the piece, the details and atmosphere of Vladimir Horowitz' 1966 recording. (The sounds that were my first contact with this music.) Lately, I've been trying to construe the Polonaise-fantaisie's admittedly detailed script as the traces of a fantasized, or fictionalized, extemporaneous musical action! Instead of the practiced brilliance of certainty, I'd welcome the wonder of not knowing so exactly what's coming next.
Do modern classical performers spend too much effort trying to play with surface perfection? I'm not sure what playing "perfectly" would be exactly. It's true that a lot of work can go into getting all the notes in the "right" places. How important this is and how obsessive we become about it varies. Certainly there is perfect playing that seems far from ideal music-making. And there are vivid, lively performances in which missed notes don't seem to matter.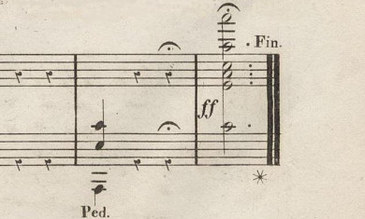 It crossed my mind in the green room that if I delivered a "note-perfect" performance of the Polonaise-fantaisie, I would die! And soon.
Would it be daring the gods? (Surely accidents are so frequent in playing scripted music that we don't have to fear not-making mistakes?) Would it be that in the exact realization of the script (whatever "exact" really is, and to what level of scrutiny?) the "life" would be drained away, leaving the music and me — in my moment of mystical thinking — dead?
Although perhaps not directly related to his playing, the pianist Simon Barere did collapse and die at Carnegie Hall, in the midst of a performance of Edvard Grieg's Piano Concerto. (Isn't there a Neil Simon character who prays not to die — on Third Avenue?) Perhaps expiration while playing Brahms at the Musikverein would be preferred?
During my actual performing in Michigan, I forgot about my dare to the devil. A couple of days later, I recalled an audible wrong note in the performance. In a place where a quiet low bass E appears in the notation, I also depressed the adjacent E sharp. That little mistake may keep me humble. Anyway it's keeping me alive.