notes on my program at the Gilmore Festival last week
The piano has always been a virtual instrument. "Virtual" in the sense that for a phrase the keyboardist could sing, or dance, or speak — by turns, taking on the musical or expressive persona of an Italian coloratura soprano, a violin virtuoso, a country dancer, a marching soldier, or then a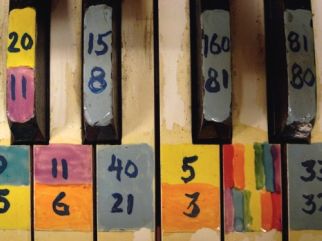 whole orchestra, or a madrigal group reading from part books. Robert Schumann commented that Beethoven's piano music always imitates something else — the piano never sounds like a piano.
Postmodern music is full of allusions, borrowings, or theft! There are measures of music in some of Philip Glass's genial, middle-of-the-keyboard piano pieces that could be mistaken for brief excerpts from piano pieces by Robert Schumann or Brahms. According to musicologist Susan McClary, these pieces by Glass take on, or mimic, the "subjective interiority" of nineteenth-century, Middle-European living-room music. I started playing Glass's etudes in 1996, after he gave me a copy of the first six. On the surface of this music, there are continuous patterns of repetition.
The notion of "fantasy" is crucial to piano music. The instrument is a quick sketch pad, a place to explore, or dream. Yes, ways of music-making are drawn from other instruments and voices, from singing and speaking. But keyboard music can conjure, associating and recombining thoughts and behaviors from the external non-keyboard world. Schumann's Opus 111 is filled with transubstantiation: a sinuous accompaniment turns into melody, ambiguous meters reflect chordal structure. The first piece in Opus 111, with its unbreakable thread of quick notes, is rather like Elliott Carter's Caténaires or Richard Beaudoin's Black Wires, twenty-first-century piano pieces in which bending, unending lines span or connect larger events.
While he was still a student at Juilliard, I commissioned Nico Muhly to write a piece that would serve as "mortar" for a concert I played at Alice Tully Hall. Nico's Music in Transition connected together the performance of a string quartet (by Glass) and a classical piano sonata. A few years later, he provided electronic commentaries and "graffiti" that were overlaid on my live performances of two piano sonatas by Haydn.
Backstage, at the Institute of Contemporary Art in Boston, after we gave a Haydn performance, I asked Nico about writing some new piano music, possibly with electronic sounds. Somehow, in Drones & Piano, fragments of Haydn, as well as lexia from lots of other music I play — John Adams' Phrygian Gates, a phrase of Janáček via Alvin Curran, the drones in Duckworth's Time Curve Preludes — all appear.
The making of scripts, of writing down music, leads to questions. In scripted plays or movies, we often want and expect the impression of spontaneity. We want our actors to live and breathe — to appear to have free will. And in music! How can we arrive at this result?
Just getting all the details right in a complicated written-down musical piece can take so much work and attention that it may seem to complete the task of the pianist. It's just a beginning. Chopin's Polonaise-fantaisie seems to me to hover at an intersection of artful design and ecstatic improvisation. Chopin grappled with this music. The unexpected but seemingly inevitable way that the second theme arises from whispered arpeggios and then turns into a grand tonic-key peroration could have strongly influenced Richard Wagner — if Liszt played the piece to him. In a single phrase, the proud, taut polonaise-rhythm can somehow morph into florid and emotionally extroverted bel canto singing. As detailed as this musical text is, it's only a trace of the music, it only offers hints and clues.
Music is useful. How each generation and group of listeners and players hear it, how we touch our instruments to make sounds always shows more about us and our time than anything about history. The surroundings, the context for hearing a new piece affects the way we take it in. But, with each new artwork, with each new performance and every concert we hear, we are subtly changed. We are re-centered. And we bring all the music of the past along for the ride, shifting and resettling. The continuing importance of the legacy of classical music is newly experienced and felt, each time our hands coax sounds from a piano, or bows draw sound from strings. Each time we listen or hear anything, we move forward, changing willfully, or inadvertently — one step, one sound at a time.
program:
Philip Glass: Etude No. 5 (1994 version)
Robert Schumann: Fantasy Piece, Opus 111, No. 1
Glass: Etude No. 4 (1994 version)
Schumann: Fantasy Piece, Opus 111, No. 2
Nico Muhly: Drones & Piano
Frédéric Chopin: Polonaise-fantaisie, Opus 61
Glass: Etude No. 3 (1994 version)
Muhly: Drones & Piano (reprise)