There it is. Suddenly without warning. In the midst of hearing a performance of J. S. Bach's D-sharp Minor Fugue, I'm swept by a wave of emotion. Tears come. It's not quite because of the playing — good, but not a lot more — though this playing is the vehicle for the transmission of whatever it is that affects me. This bottled time, this music, this careful script of actions that lead to experience…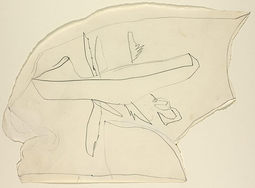 Is this feeling I have, regret for what was and isn't anymore? Is it fear, or humility facing mortality? Perhaps it's more about me or my life, than the art that seems to provoke it? Anyway, I'm struck, and in its grasp. This pleasure, and torment. Hindemith says the emotions induced by music are not real. Right now, I can't agree.
Schoenberg describes performers around 1900 who "overdid themselves in exhibiting the power of the emotion they were capable of feeling." Cage explains that emotional music will only "show how emotional the composer was." Yet, I'm remembering my friends' small son who asked that certain recordings never be played. "Too sad…," he said.
Aside from the quickness of our fingers, or the subtlety of our pitch hearing, we might consider that a measure of musical capacity is an ability to experience connection from sound to something beyond it. At least in some kinds of music, the realization of a musical text depends on sensing, discovering, or projecting a connection from sounds to the ideas and feelings that sounds may signify.