The pianist Fou Ts'ong played a solo concert in Jordan Hall including Chopin's Opus 35 Sonata. In the famous "Funeral March," he made an unbelievable racket with the left-hand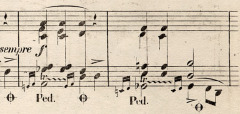 trills. They were noisy, unpleasant, almost veering out of control. In a masterclass at New England Conservatory, during that same visit to Boston, Fou Ts'ong manifested such subtly refined attention to details of sound, and line, and phrase. Everything. But, those trills in his playing of the sonata were raucous and harsh.
Weeks later, Kristian Zimerman played in Jordan Hall. His program also included Chopin's Opus 35. Finely crafted, the whole performance was fastidious, with lovely sound and expert shaping. When it came to the "Funeral March" those trills were full-bodied, loud, and almost elegant. And, I found myself missing Fou Ts'ong! Missing the noise, missing the near loss of control, those horrible intrusions — missing the sound of Death.