Near the beginning of T. S. Eliot's "Portrait of a Lady" there are these lines:
"We have been, let us say, to hear the latest Pole
Transmit the Preludes, through his hair and fingertips."
Were those the celebrated red locks of Paderewski? Like many Poles playing the piano, he specialized in Chopin. There were so many Chopinists in the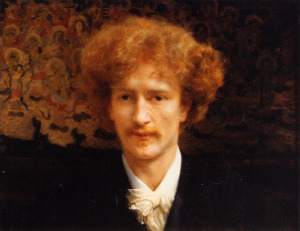 early years of the twentieth century — just as sound recording really got going — that, although we don't know how the players of the 1840s sounded when they played Chopin's music, we do have a lot of recorded evidence of the playing of the 1920s and 1930s. This forms a (somewhat anachronistic) performance-practice reference-collection for this repertory.
It can be intimidating. Before we play the Nocturne, opus 55, number 2, we might be thinking of Ignaz Friedman's 1936 recording. (And some players imitate it.) There are pianists who avoid the Fourth Ballade because of Josef Hofmann's overwhelming 1938 account.
Several years ago, in my essay "Exorcising Volodya," I described my efforts to remove, from my performances of Chopin's Polonaise-fantaisie, details from Vladimir Horowitz's 1966 recording — details I imitated even though I didn't like them. Recently, as I have studied the Polonaise-fantaisie again, I've been thankful there are no early twentieth-century recordings of it. We can wonder how Friedman, Hofmann, or Alfred Cortot, may have played the piece. But, either because of technology — it would have required several recorded "sides," like a concerto — or perhaps because of this piece's reputation as discursive, none of the old players put it onto shellac.
Our sense of music is colored by when and how it entered the recorded repertoire — even if we are not specifically aware of the first recordings. Do we have a more "modernist" view of the Polonaise-fantaisie than we might have of Chopin's First Ballade — because the Polonaise-fantaisie was not recorded until after World War Two?